Even as everyday people wear masks outside, social distance from their friends, and work remotely many are still planning to make this holiday season a special respite from the stress and confusion of 2020.
In this holiday insights report in 2020, we will answer any questions about brands, and shoppers.  Keep on reading to dive into the data.
Will the Pandemic Have Any Impact on Holiday Shopping at All?
Thousands of shoppers were surveyed to better understand their holiday plans and expectations. This year, it is necessary to understand how the uncertainties of the COVID-19 pandemic are influencing those plans.
According to the holiday insights in 2020, the main question is will the pandemic have any impact on holiday shopping at all? and the answer is yes, as 65% of shoppers said that their shopping this holiday season will definitely change in some way as a result of the COVID-19 outbreak.
The chart below explains it all;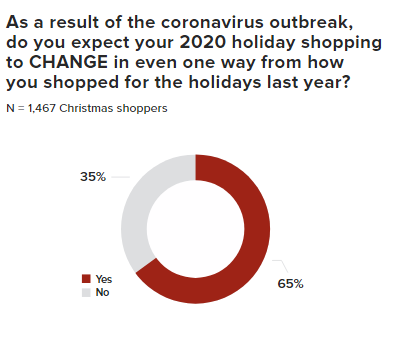 According to the chart, only 35% of shoppers said that their holiday shopping will not change.

When shoppers were asked if they will spend more on holiday shopping in 2020, these are their answers;
83% are more likely to spend about the same.
7% are likely to spend more.
Besides 7% said they're likely to spend less.
Along with 0% who didn't make any holiday purchases last year.
Check the latest Christmas insights in 2020 here.
Brick & Mortar Shopping
Shoppers say they're planning to increase their use of online shopping and pickup/delivery services, traditional in-store shopping remains crucial. However, Only 7% said they do not plan to shop in-store at all, compared with 34% who plan on visiting 5 or more stores this year.
According to the holiday insights in 2020, the graph below answers the question of how many brick-and-mortar retailers shoppers expect to visit to purchase holiday gifts this Christmas.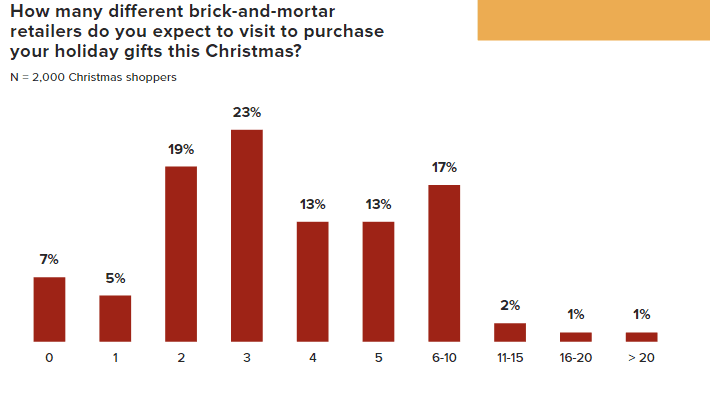 Make sure to download the full holiday insights report here.
The Table of Content of "2020 Holiday Insights: An Omnichannel Christmas" Report:
A Holiday Like No Other
Top Gift Retailers
Brick & Mortar Shopping
Online Shopping
Grocery Pickup
Apps
Grocers
Foods & Beverages
Alcohol
Gifts for Kids
Stockings
Gifts for Adults
Gifts for Pets
Greeting Cards, etc.
Takeaways
Demos & Details
Number of Pages:
Pricing: