It is that time of the year when brands are planning their Christmas activity. For many retailers earning up for the festive season, COVID-19 has cast doubt on future plans.
As reported in the Christmas insights 2020 there is a percentage of 22% say their company has enacted pay cuts as a result of the COVID-19 pandemic.
Anyhow, there is hope the festive season will offer an opportunity to recapture consumer spending otherwise lost to the global pandemic.
Hence, to maximize sales, brands have to understand how consumers shop when uncertainty is still rife, besides the prospect of a second wave is approaching.
Christmas Insights 2020 Amid COVID-19: 
According to the Christmas insights 2020, the percentage of consumers who expect their country's economy to get worse has increased from 19% to 36%.
Not only that but also the expectations for worsening personal finances have increased from 10% to 20%.
The chart below shows the percentage of US and UK Christmas shoppers who will do the following things this year;

As shown, 44% of Christmas shoppers in the U.S. and UK say they'll spend as they normally would this year.
A percentage of 18% say they'll have a better idea when the situation with COVID-19 improves.
Moreover, a percentage of 14% of consumers in the U.S./UK say they'll buy more in advance to spread the costs.
Besides, 31% plan to buy more gifts that are on sale.
3 in 4 Consumers in 20 Markets Approve of Brands Providing Funny/Lighthearted Content:
It is obvious that 2020 has been one of a kind year. Brands should be careful when planning for their Christmas advertising because the situation could change every day.
So we actually don't know if Christmas day will come during another lockdown or not.
At the moment, many people look forward to Christmas and ads as a form of escape from everything that this year and COVID-19 has thrown at us.
According to the Christmas insights 2020, 3 in 4 consumers in 20 markets approve of brands providing funny/lighthearted content.
The question is what should brands do? they should focus on why consumers are compelled to act and think in certain ways.
Hence, calls for brands to be socially responsible increased significantly as the world entered the lockdown earlier this year, to be specific, in several key western markets.
Here is a chart that shows the percentage of internet users who want brands to be socially responsible.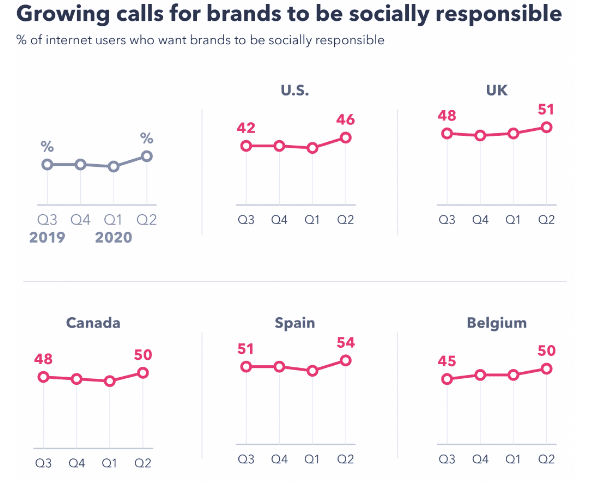 Make sure to check the full Christmas insights 2020 here.