Competitor analysis plays a significant role in the marketing industry. There's no need to say that the first few months of 2020 has been crazy for everyone. The market has changed and offline industries experienced various changes, the best case scenario they had to make an emergency landing online.
In light of that, the competitive landscape has also changed, however, we need to have a look at the bigger picture.
Without further ado, let's take a look at the insight.
Industry Shifts in March 2020: The New Essentials
The following chart shows data on several industries which shows a typical online growth in March 2020. The first categories to increase in terms of traffic are those that accommodate the remote working situation.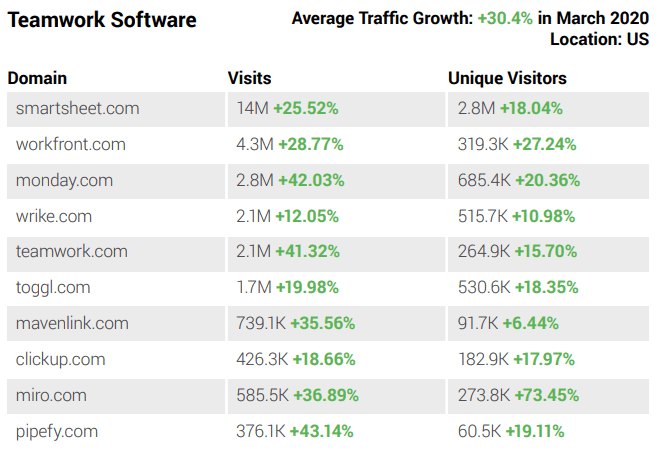 For the home decor eCommerce, the chart below explains it all, too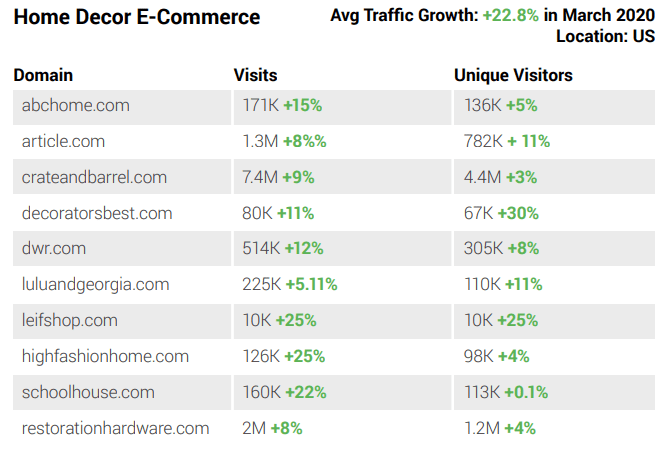 No need to mention that when it comes to online shopping for the essential goods, it looks like the initially increased demand has been satisfied, and thus has decreased.
eCommerce Growth Amid the COVID-19
However, when it comes to the general eCommerce here are the charts below to sum things up easily.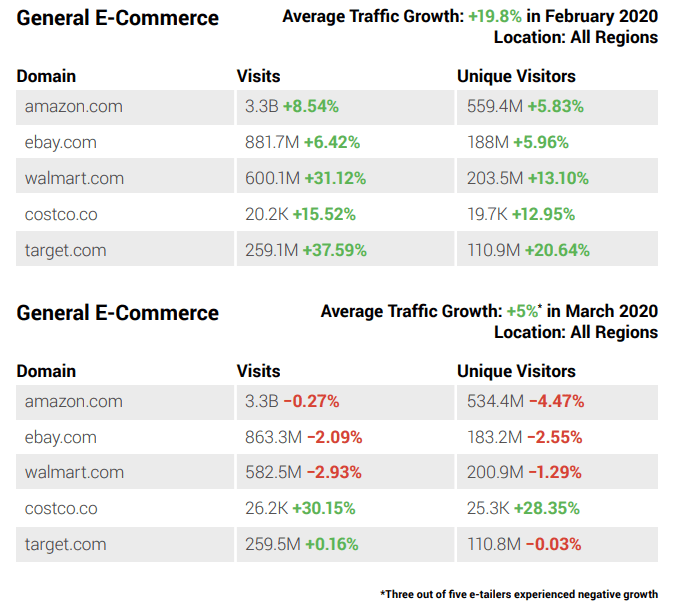 Competitor Analysis: Check Up on Your Competitors' Moves on Social Media
This is an important and essential step when it comes to competitive analysis. Because social media play an important part in the marketing industry and maybe the most relevant when it comes to showing your prodcts\service's reaction to current events.
It is beneficial for brick and mortar businesses that you can't visit in person, so social media platforms provide you with great chances to stay on your target audience's radar by being helpful. An example, fitness rands have switched to offering at-home workout for free.
So, that means social media platforms are your way to make your business stand out, however, what should you exactly do to thrive?
Here are the questions you need to ask yourself:
Learn what type of content your competitors have been posting (are there any non-promotional posts?) and how often.
Highlight your own chances in social media ads.
Check if your competitors' audience has increased or decreased.
Check who has been active on social media platforms and which platform are they using the most.
Don't forget to check Social Media Tracker to help you with the above steps.
Check the full guide for the ultimate competitor analysis tips in uncertain times to make better use of them and help your business amid the COVID-19 crisis.
The Table of Content of "Competitor Analysis in Uncertain Times Guide":
Industry Shifts in March 2020: The New Essentials
How to Find Surefire Insights for Your Digital Marketing
Get Insights from Competitors' Website Traffic
Analyze Your Rivals' SEO Efforts
Get Marketing Ideas from Their Recent Online Ads
See How Your Rivals Are Adapting Their Content Marketing and PR
Check Up on Your Competitors' Moves on Social Media
Review the Findings with Your Own Goals and Strategy in Mind
How Often Should You Do Online Competitor Analysis?
Number of Pages:
Pricing: