COVID-19 continues to spread all over the world and affecting economy and industries everywhere around the world. Marketers are faced with difficult and complex strategic choices.
The COVID-19 recession has caused negative effects like a demand and supply shock, we can see that there are brands in many sectors with no product to advertise.
This guide shows some of the most useful thinking from over the industry on operating the post-lockdown time, as well as, presenting marketers with more actionable ideas based on the position of their brands.
Let's dive into more details…
The Top 5 Lessons Marketers Should Know From Previous COVID-19 Recession
It is always better to take a look at previous experiences and how people managed to get through crisis times. In light of that, there are a variety of studies that indicate that cutting too hard has an impact on the long term in market share, growth, terms of sales, and return on investment. It is reported that companies that maintain investment recover more quickly.
The Top 5 Lessons From Previous Recessions: 
Bear in mind that "Going Dark" can weaken consumer "bonding" metrics.
On the other hand, media costs decline during recessionary times.
It is reported that if you invest in ad spend during a recession it brings long-term advantage, so it is worth it to think about investing.
Make sure to defend your share of voice- cutting ad spend risks damaging market share.
Additionally, once a decline in market share sets in, it can be hard to reverse.
Related Report: COVID-19: How Businesses are Handling the Crisis Report
The COVID-19 Recession Causes a Sharp Downturn
It is obvious that the lockdowns caused by the COVID-19 spread have caused a sharp downturn. The chart below explains it all,
What happens now is a healthcare crisis which leads to a critical economic slowdown, not only that but also it makes the shape of the recovery hard to predicts because the consequences of the COVID-19 lockdown becomes visible and there is a risk of further outbreaks, unfortunately.
In light of that, Sir Martin Sorrell predicts a "reverse square root" recession – a sharp downturn, a partial bounceback then a plateau.
How to Plan Past the Lockdown?
It is necessary to think ahead, therefore after the lockdown is over, actions need to be taken.
However, the actions are different from company to another depending on the company's resources, and if operating in a bust or boom category.
Anyhow, every brand, regardless of the state of play should aim to help, be customer-led, understand changes in spending behaviors, along with monitoring consumer insights, and spend wisely.
The Top 10 Actions Past the Lockdown:
Kill or cut back on "dwarf" brands.
Review your lockdown playbook.
Look for signs of new habit formation.
Keep advertising, if possible.
Audit your eCommerce capability.
Use other levers to remain visible, if you have to reduce ad spend.
Build strategic alliances.
Maintain Creative where possible.
Review pricing but try to avoid discounting.
Tailor your approach to brand-building and activation.
The Table of Content of "Marketing in the COVID-19 Recession Guide":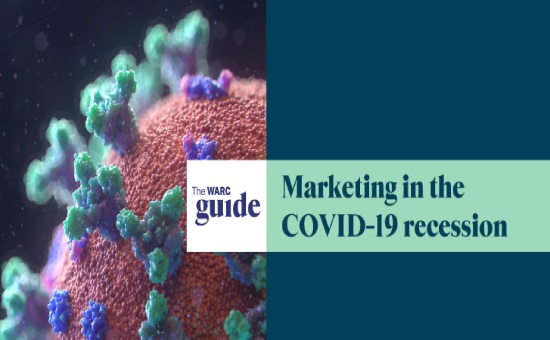 The playbook for "normal" recessions: Lessons from previous recessions
Recession 2020: what we know so far: Why this recession is different, why the standard advice to "keep advertising" may not apply, and how brands and responding
10 actions to take right now: How to plan past the lockdown into recession
Early lessons from China: The shape of recovery so far
Opportunities for growth: Emerging trends brands can act on as the recession unfolds
Number of Pages:
Pricing: