When it comes to media monitoring, from the client's perspective, one of the biggest challenges about switching to a new media monitoring service is having to train new staff to learn how to use it and to integrate it into their PR tech stack.
Therefore, when companies switch to using media monitoring they have to teach their employees how to use this new service to get amazing and promising results.
Without further ado, let's dive into more details about media monitoring.
Media Monitoring: Defining Objectives 
You have to know your priorities, because measurement, listening, evaluation for trends is extremely different from monitoring for mentions. So, the only way to start a measurement program is by being extremely clear about your goals.
In light of that, Katie Paine, CEO of Paine Publishing says "Nine times out of 10 they'll say your objective is protecting their reputation."
Here's what you need to do to set your goals:
Make sure to capture and analyze what people say about your company.
Pay attention to your competitors as well as the categories in which you compete.
After defining your objectives, understand that if accuracy is mission crucial, then you will need to allocate human resources to determine widespread beliefs, that is because media monitoring platforms can't do that for you.
Media Monitoring Interview Questions
So everyone needs a little help sometimes, right? This guide starts with providing media monitoring interview questions in order to assist you when you are talking to media monitoring platform providers.
Here are the questions you can use to review their features easily: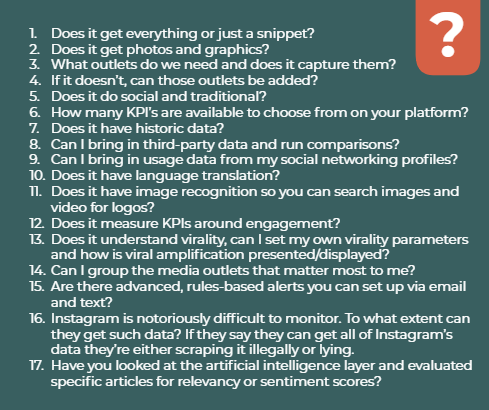 Media Monitoring Platforms
For more information about media monitoring here are some of the platforms you should check:
Intrado: With its notified interface that leads clients through listening, connecting, amplifying, and publishing measuring sequence, even though users can start anywhere they choose.
Cision: It was founded back in 1892. It has grown into the most feature-rich PR technology-enablement platform in the world.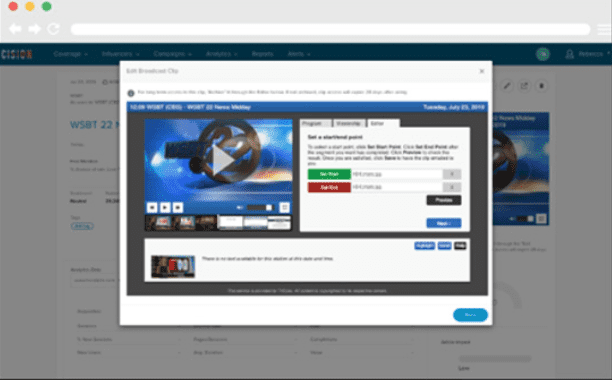 Meltwater: The company has more than 32,000 clients, 1,500 employees, and 55 offices all over the world, it is considered to be the second-largest all-in-one PR technology-enablement platform provider.
MuckRack: It was founded by CEO Gregory Galant. It is the first company to take an online marketplace approach to connect media relations professionals and journalists.
Download the full guide to get a deep look at media monitoring and how can you use it.
The Table of Content of "Media Monitoring Buyer's Guide 2020":
Executive Summary
Beyond AI Hype
Broadest Coverage
News Media Filtering
Big Picture
Defining Objectives
Media Monitoring Interview Questions
Media Monitoring Challenges
Artificial Intelligence
Apples to Oranges
Debunking Fake News
Beyond Clip Reports
Relevancy
Sentiment
Concepts vs. Keywords
Passwords & Firewalls
Advanced Filtering
Measuring for Business Impact
PR Attribution
Media Monitoring Features Grid
User Rating Grid
Media Monitoring Platforms
Burrelles
Critical Mention
 Cision
Intrado
Meltwater
Muck Rack
PublicRelay
Signal
Talkwalker
TVEyes
The Bottom Line
 Methodology
About the Author
Number of Pages:
Pricing:
Methodology:
According to the author: "Originally, it was not my intention to write this report. I was going to write a blog post about the State of PR Enablement Platforms, which I did at the PRSA International Conference in San Diego. But after talking to all the PR tech solution providers exhibiting at the conference and collecting so much interesting information about their services, I decided to roll up my sleeves and figure out the differences between the various providers when it comes to media monitoring in particular because if you can measure it, you can optimize it and prove its value.