Facebook's rolling out an updated 'Account Quality' dashboard within Business Manager, the updated dashboard – Account Quality- is designed to help Page admins and support staff keep track of any suspended ads or impacted posts as a result of rule violations or other enforcement actions, also to better explain the reasoning for each.
More About Facebook's Account Quality: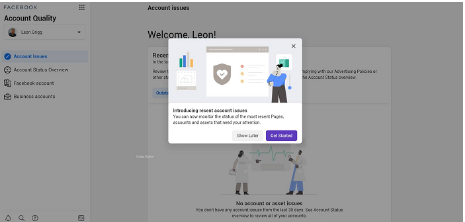 Regarding the "Account Quality" dashboard, as you can see in the above example, posted by Leon Grigg (and shared by social media expert Matt Navarra), the new – Account Quality- dashboard provides an overview of any problems with your account which could impact performance.
According to the description, here, Page admins can: "Review the most recent accounts and assets that need attention due to not complying with our Advertising Policies or other standards."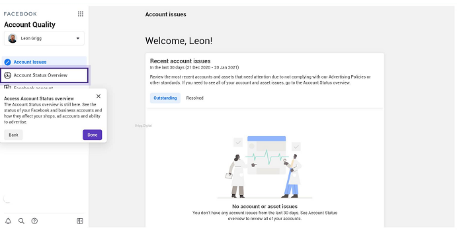 The display itself is not completely new – the 'Account Quality' tab has been available, in a more limited form, within Business Manager for some time, on the other hand, Page managers have also been able to view a listing of the same issues in the 'Page Quality' tab in their business Page tools.
Moreover, the listing here will probably include the same information as the Page Quality tab, which gives a full overview of:
Recent Community Standards violations.
Content shared by your Page that's been rated by third-party fact-checkers.
Intellectual property rights violations.
Content shared by your Page that's been identified as clickbait.
Violations for sharing too much content from other sources.
Events take-downs.
Job postings shared by your Page that's been identified as misleading, deceptive, or fraudulent.
Content shared by your Page that isn't eligible for suggestions.
Even though the focus of this new tab will be more organized towards ads, which would mean that some of these are not included.
Given that this information is already available, the updated dashboard not a significant update, but it will make it a little easier for Page admins to stay on top of ad issues to help guarantee their campaigns are maximized, while the improved display and layout will also make it easier to keep track of concerns.
What it doesn't add is additional support, which is what Facebook advertisers – especially small businesses – really need.
Last month, Bloomberg reported that many small advertisers have faced ongoing challenges in dealing with Facebook's ad systems, with the primary concerns being a lack of assistance tools and arbitrary or incorrect account suspensions.
Bloomberg explains: "A big part of the issue, according to Facebook advertisers, is that the company doesn't have a robust set of customer service systems in place for smaller advertisers. Facebook brags that it has 10 million advertisers, but the majority of them don't have a regular human contact person within the social network to resolve issues. The company offers an automated chat feature for advertisers, but you need an active Facebook account to use it, which means it's not available to users who have been accidentally locked out."
Moreover, this updated tracking dashboard may provide a better overview of the existing concerns, however, it won't address this main issue – which, at 10 million advertisers, is pretty much impossible for Facebook to fix, in providing personal assistance at scale.
Anyhow, maybe, by being able to better track the problems, it could help businesses stay on top of them, on the other hand, the updated format could help to better explain each concern, also better outline the steps required to resolve it.