Instagram Stories continue to take over the app, and Instagram continues to bring out the best of its features when it comes to Stories.
Back in May, Instagram was testing a new Double-story Stories feed with just some users, But now, Instagram has also confirmed that a new full-screen Stories display feature is being tested as well.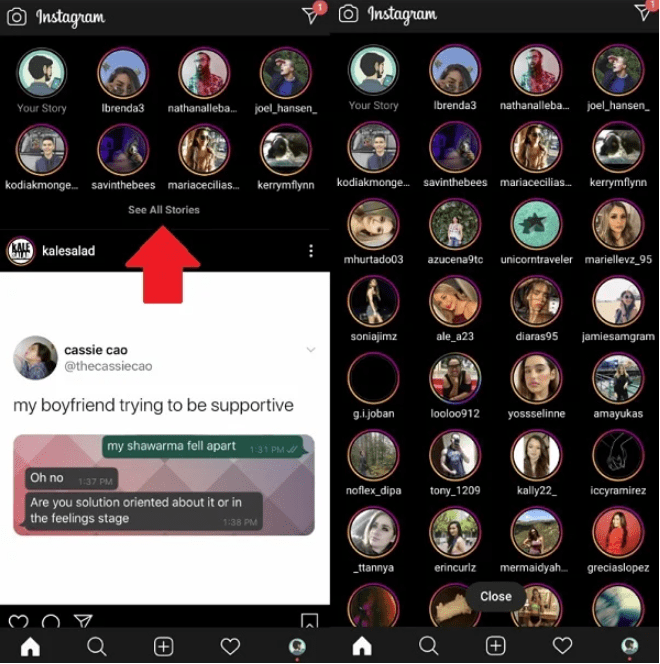 The attached screenshot posted by Adweek marketing and social media manager Julian Gamboa, some users actually see a prompt below their double-story Stories display to "See all stories".
When you tap on it, the Stories display expands to full screen (bear in mind it depends on how many Instagram Stories you are eligible to view), then it creates a Connect 4-style display grid of Stories and you are able to tap on each one of them.
In light of the new Instagram full-screen Stories, Instagram has actually confirmed the test to TechCrunch, however, Instagram notes that it's currently being tested with a small number of users.
Instagram's New Feature: Full-Screen Stories Display 2020
As for the new feature -Instagram full-screen Stories- it was being tested for some time, back in April, reverse engineering analyst Jane Manchum Wong spotted the code for a full-screen Stories displays in Instagram.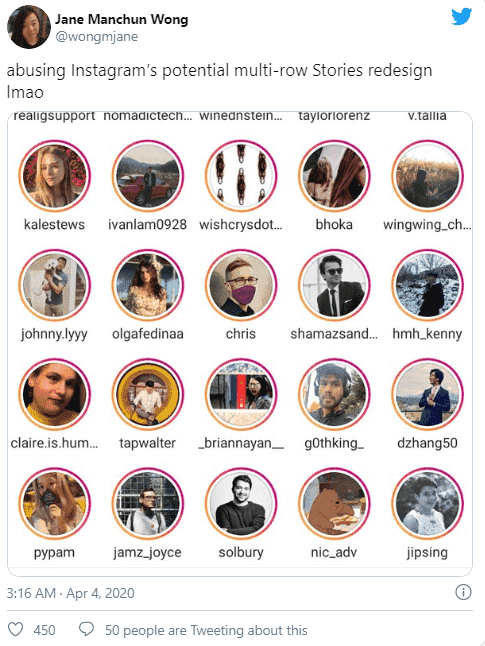 The question is how will the new feature work? According to the test, the app will open a full-screen Stories display, just like TikTok does with the video clips shared on the platform.
It is likely that Instagram will look to switch the primary focus of the platform from the traditional post feed to a Stories feed due to the high usage of Stories.
However, as a parent company, Facebook continues to note that Stories are on track to overtake the news feed as the main surface for social media engagement. That actually makes sense for Instagram to evolve in line with user behavior.
On the other side, it actually doesn't seem like that the full-screen display of Stories bubbles is the best way to present Stories.
As it will be more suitable for people who use Stories more often to open the first Story, and with people getting more accustomed to this way of the display through TikTok, which continues to see increased usage too, it would be surprising to see Instagram make this change at some point in future.
On a side note, Facebook is also testing an "all Stories" display option.