Due to the unavoidable lockdown, gatherings cancelation and staying home to slow the accelerated spread of the coronavirus pandemic. We need to think of ways to entertain ourselves and stay connected with everyone.
Reading a book, watching movies or series, re-connecting with your family, take a break from everything and re-charge your energy; these are all options to make use of the lockdown.
Instagram would not miss such a chance as this photo and video sharing application – owned by Facebook –  keeps on amaze us every time with its unique and changeable filters, not only that but its actions based on the pandemic to help people get the accurate information from trusted sources such as the World Health Organization and CDC.
Instagram's New Co-Watching Feature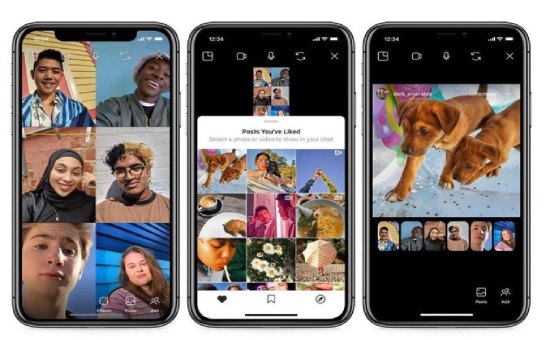 A new feature has been added by Instagram to make the quarantine more fun. As it enables more social activity among its users who fight against the COVID-19 outbreak.
Let's take a glance on the new Co-Watching Featurefeature and how it works:
The new feature will enable users to co-watch posts and content on its app while video chatting.
You can browse through your feed and share your liked or saved posts while chatting with your friend or a group of friends via group video chat.
The co-watching feature will, therefore, help in sharing your favorite posts with your friends and others while chatting with them, hence increasing video calls over the app.
The co-watching feature can be used by six users at the same time, as reported by Tech Crunch.
You can share feed photos and videos but not IGTV posts. However, if a participant is blocked from viewing a post, it will become non-functional for the co-watching feature.
"To help people stay connected, we've launched media sharing, a new feature that allows you to view Instagram posts together with your friends over video chat. You can start a video chat by tapping the video chat icon in the Direct inbox or in an existing Direct thread, then view saved, liked and suggested photos/videos by tapping the photo icon in the bottom left corner in an ongoing video chat." Instagram stated.
Read Also: 10 Useful Social Media Management Strategies in Times of Crisis: COVID-19 Outbreak 2020
The Co-Watching Feature and Its Relation to Marketing
On the other hand, every new or updated feature on social media platforms helps everyone! individuals or businesses. it could also provide a means to raise engagement with small groups, by maybe saving a collection of posts from your company, for example, or those highlighting your products, which you could then talk about with top fans by using this option.
After all, this feature can go viral and helpful for many people. I mean, we all have this moment when we scroll down through our Instagram feed and there comes this post we want to show to someone and maybe talk about it, so instead of handing the phone to this person or screenshot it and send it, this co-watching feature will speed up connecting within the application, and in real-time.
It is always something considerable when social media platforms lessen the distance between people and facilitate connecting and sharing with each other, and right now we can make use of any updated or new options, especially, during the lockdown.