As usual, Twitter publishes its regular events calendar for marketers to note. In July, Twitter published the key dates coming up in the proceeding month with a July marketing calendar, and that can help marketers to plan their campaigns and will make them tie-in with trending events and discussions.
However, with the impact of COVID-19, those normally optimistic listings are starting to look a lot barer and also a little bit depressing as a result.
Here is the July marketing calendar provided by Twitter.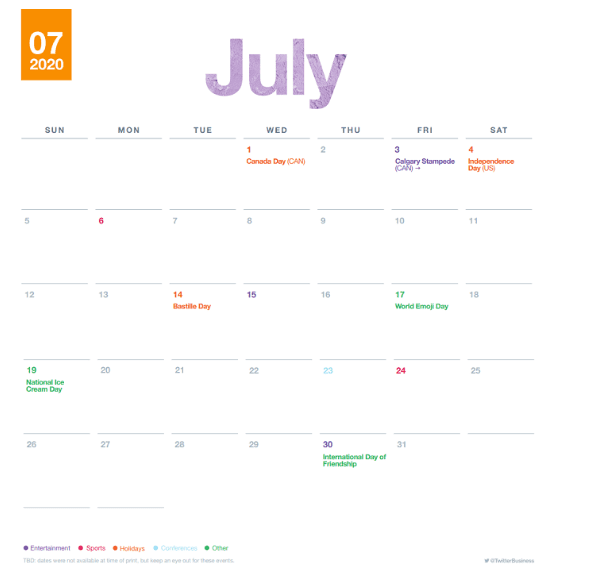 On the other hand, it is a little surprise that Twitter hasn't actually provided a summary of the key dates coming up in July marketing calendar 2020, on the other hand, Twitter included the initial July 2020 listing in the full 2020 calendar. The calendar above is edited and some events are removed due to the COVID-19 pandemic.
July Marketing Calendar From Twitter:
As we see, it is not overly impressive as there is not a heap of opportunity for celebratory tie-ins, additionally, for the most part, there is not a lot of joy and happiness through the ongoing situation. therefore, it is understandable if you feel like you shouldn't be looking for promotional tie-ins either way.
On the other side, for businesses which are able to continue their operation through the restrictions due to COVID-19, and also looking for ways to connect and communicate, well, you still have some opportunities in the July marketing calendar, as it includes World Emoji Day on 17th July, National Ice Cream Day on 19th July, and International Day of Friendship on 30th of July.
Moreover, the planned return of the NBA, in an altered form is on July 31st, While Major League Baseball also is on July 23rd. Hopefully, those small chances to celebrate and escape from COVID-19 restrictions could be a way to engage and communicate with your community in a positive way besides easing the tension with people who are looking for something for that matter.
It should be said that marketing during the COVID-19 pandemic is challenging in so many ways, however, there are a lot of people online and they are more engaged than ever, they also look for connection and distraction from the constant news cycle, so there could be some considerations in July listing.
Make sure to download the full-year 2020 events calendar and check out all the events, besides checking the July marketing calendar; bear in mind that some events have been changed or canceled due to the ongoing events due to COVID-19.