When it comes to the published Twitter events calendar which is being published monthly basis, it should be said that they are extremely helpful for social content planning because they do multiple things as highlighting the main dates and events besides their respective tweet volume stats based on on previous years.
However, and due to the current circumstances caused by COVID-19, Twitter's events calendars are not looking as full as they once did, however, it should be mentioned that there are still different chances and promotional tie-ins to bear in mind across key dates in June, as per its latest listing.
Twitter Events Calendar in June 2020
Twitter publishing a post highlighting the key dates on a monthly basis and referring back to its 2020 calendar which it published earlier this year.
Moreover, there are many events on the calendar that is no longer happening due to the COVID-19 crisis. Anyhow, there are still some opportunities to bear in mind along with events to keep in mind in June.
Here are the major events in June which Twitter highlights: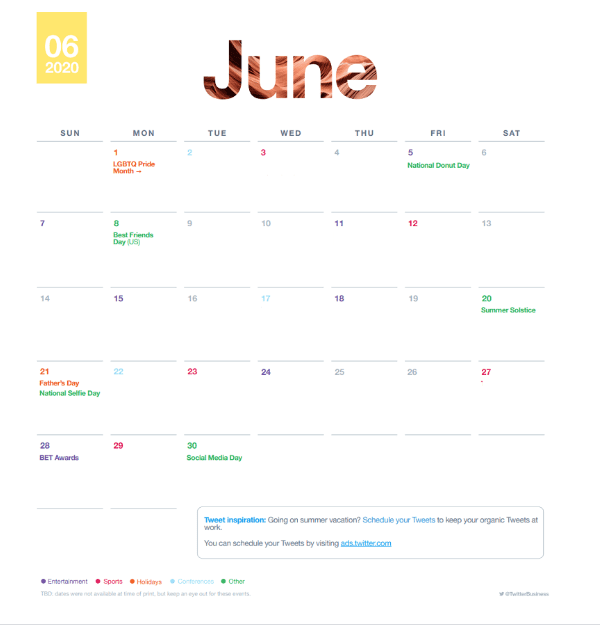 Pride Month: Twitter recommends that brands show support via specific messaging that showcases a point of view.
Best Friends Day (June 8th): Twitter thinks this is a great way for creative promotions.
National Selfie Day (June 21st): As said by Twitter the perfect time to encourage your audience to share photos of themselves using your product or service at home is National Selfie Day.
Father's Day (June 21st): As Twitter says "A great opportunity to create and share gift guides, exclusive sales, user-generated content"
Summer Solstice (June 20th): As per Twitter this event is an opportunity to connect with your target audience via relevant meems which capture "summertime feelings"
Even though there are fewer events to celebrate, and the celebration itself has already changed due to the COVID-19 pandemic, brands should consider the above events as everyone is looking for escapism and people are looking for ways to connect virtually with each other and participate in events.