LinkedIn engagement has been growing aggressively, as the business-oriented social network announced that their total number of members has reached 660 million. LinkedIn has seen over 8 million additional members just in the US since February, more than 3 million in Brazil and 7 million-plus in India as well. Moreover, LinkedIn has more than 48 million members in China, where it is the only operating major platform.
This growth has been steady ever since Microsoft acquired LinkedIn in 2016. With more than 50% increase in number of users, and It has also continued to improve its revenue numbers.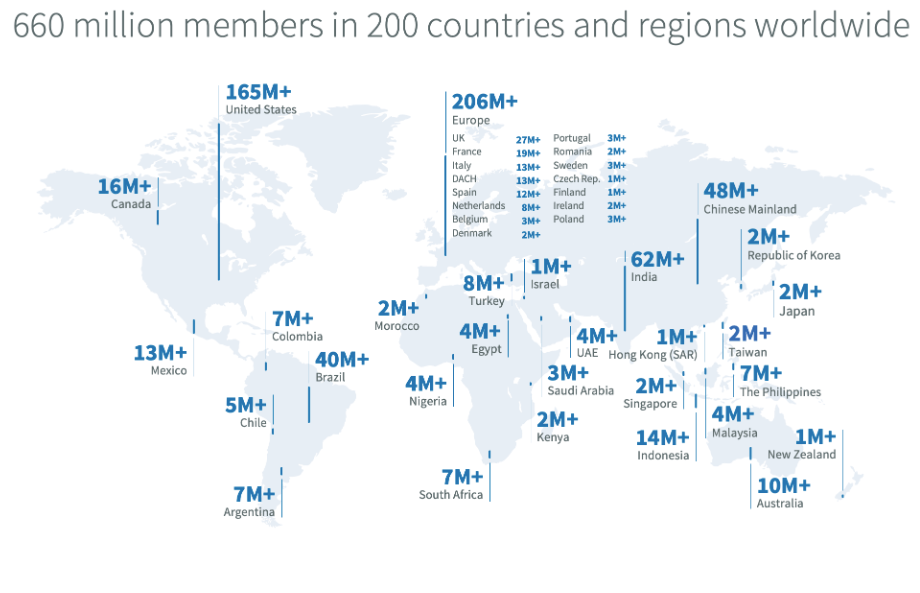 In the wake of reaching this milestone, LinkedIn introduces a new set of guidelines for 'Members First' that focuses on protecting their 660 million members and preserving the trust they've built. The guidelines are explained by LinkedIn on their blog as follows:
We provide our members with clarity, consistency, and control over their data. Simply, we tell our members what we will do with their data. We then do what we say we will do with this data. And we strive to provide our members with simple, easy to understand settings and controls so that they are in control of their data.


We are focused on keeping LinkedIn a safe, trusted, and professional platform. Because we value professional expression, we use systems, technology, and reports from our members to detect and quickly remove any content that violates our Professional Community Policies. Members also rightfully expect content they encounter on LinkedIn to be legitimate. That's why we are deeply focused on removing fake profiles, jobs, and companies.

We believe two members with equal talent should have equal access to opportunity. To achieve this goal, we are committed to building a product with no unfair bias that provides opportunity to all of our members. There is a lot of work still to do, but we are focused on working across our company, with our members and customers, and across the industry to close the network gap.

Finally, we're a global platform with an obligation to respect the laws that apply to us. We also contribute to the dialogue that shapes these laws so that we can fulfill our vision of creating economic opportunity for every member of the global workforce.
LinkedIn has managed for the most part to keep away from the numerous issues and concerns that have caused major headaches at other platforms in recent years.