Super Bowl LV is quick approaching, in other words, that also means that a whole raft of brands will be looking to link into the surrounding conversation on social media, in the hopes of capturing their own 'Dunk in the Dark' viral moment of branding glory during the event.
Certainly, looking back at that tweet from Oreo in 2013, which has been studied and scrutinized within an inch of its life, apparently awakened businesses to the power of trend jacking during the Super Bowl, giving Oreo the equivalent exposure of millions in relative ad spend via a simple, real-time response tweet.
Since then, it was evident that more and more brands have been trying to find their own way into the Super Bowl discussion – which is why data reports like this one from Snapchat, are hugely important to those assessing the most reliable way to connect, also maximize their exposure during the event.
Anyhow, while Twitter is often viewed as the real-time event powerhouse, Snapchat may well be worth thinking about- according to Snap, a percentage of 61% of Snapchat users will be tuning in to the 2021 Super Bowl next week.
In addition to that, Snapchat users are also frequently engaged with the Super Bowl ads and promotions.
Snapchat's Super Bowl Insights in 2021: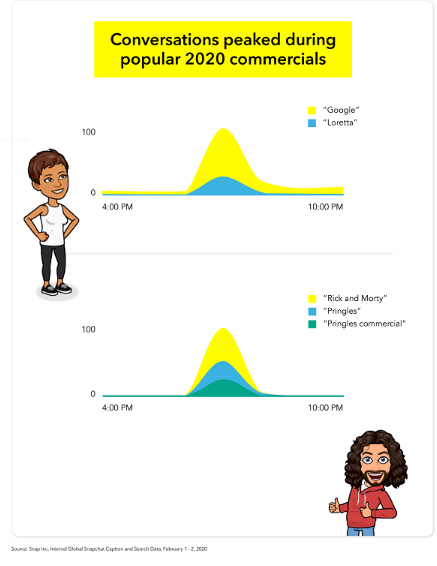 According to Snapchat: "Snapchatters' reaction to Super Bowl commercials is what usually spurs spontaneous sharing on Snapchat. In 2020, there were notable spikes in conversation for advertisers like Google and Pringles when their commercials aired."
Moreover, the Super Bowl commercials, of course, have taken on a life of their own, and as you can see here, Snapchat users, particularly, are frequently engaged with this element, which could be worth considering in your efforts.
Getting this right could have important benefits, with Snapchatters getting enjoyment out of creative, engaging promotions during the event.

In fact, a quick, real-time linkage to the halftime show could be especially powerful, based on Snapchat's engagement insights.