Twitter is expanding its features and makes it more functional for the user. Even though the feature of adding Twitter alt text descriptions with uploaded images has started back in 2016. The process has become easier to access, the process has involved clicking or tapping through to an extra menu prompt, however, not all users are aware of.
The picture below shows that there will be a new "+ALT" indicator on the image, and that will make it easier of course, for users to tap through and add in text detail faster than before.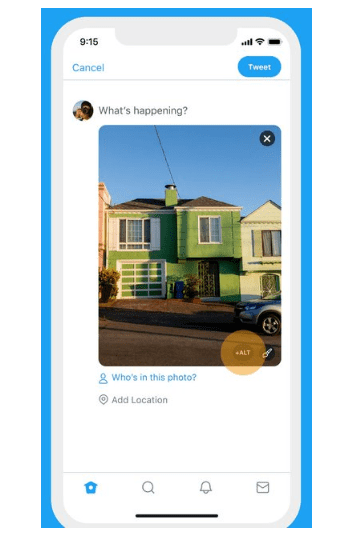 In light of that, Twitter explained "Adding descriptions to images is a great way to include everyone in your conversation. These descriptions, aka alt-text, enable folks who use screen readers to interpret images in Tweets. Starting today, you no longer need a setting to add alt text."
More About Twitter Alt Text Description for Uploaded Images 
Now, because the new option for adding Twitter alt text description to the uploaded pictures became visible, users note that more people will be aware of it and that means they will consider adding alt text description to the pictures, and that will likely mean that more take the time to do so.
Actually that can have great and major benefits for visually impaired users, it is reported that there are almost 7.6 million people in the US suffer from a visual disability, in some form, and providing simple and basic descriptors in your uploaded visuals have a great impact on their online usage experience.
Additionally, the new option makes your images more searchable and recognizable. Even though it does not enable visual search through alt-text at this phase, but the included information can still be accessed and also used to categorize your content.
You can add in image description and now it's front and center.