After being tested in the past few months, Twitter has finally launched its new direct message chat window on the desktop. It enables users to engage with their messages without having to leave their main tweet feed.
The New Direct Messages for Desktop
The tweet above shows that the new addition "direct messages on the desktop" provides a mini, picture-in-picture display for your DMs, and this is similar to the desktop messaging functionality on both LinkedIn and Facebook.
Whenever you get a new direct message, the window will automatically expand, however, you are able to collapse it anytime- or engage in the DM discussion via the smaller screen.
The reverse engineering expert Jane Manchum Wong posted the following screenshots back in April, as noted, Twitter has been testing the direct messages option on desktop over the last few months.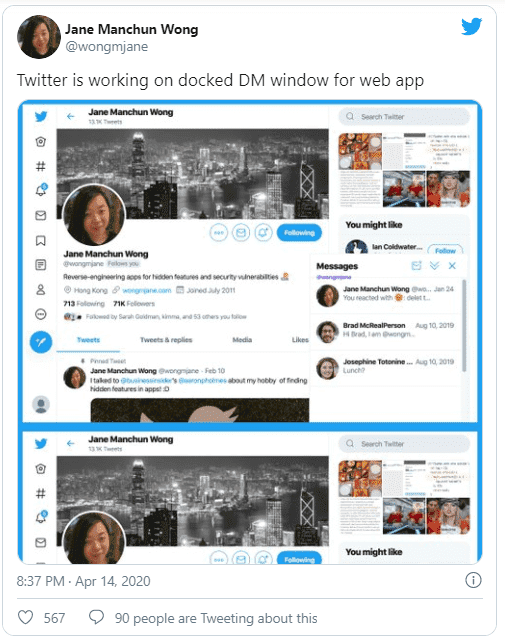 Twitter sees an increased usage rate of direct messages as people have started to reduce their public posting activity, besides launching a range of direct messages updates and feature additions over the past year to align with this change.
Even though the new direct messages addition will make sense, Twitter users will undoubtedly be upset to have their regular tweet experience interrupted by the new window popping-up when they get a message. Anyhow, if that sounds like you, you have the option to minimize it only.