Data shows that Snapchat is playing a significant and influential role in making younger people vote. the question is, can it be that influential and play a key role in deciding who will become the next US President?
In light of that, it is reported that it will have an impact and that is based on the findings of two new reports. One comes from Democracy Works, which found that of the 450,000 Snapchatters who registered to vote through its TurboVote process in 2018 – through a campaign that was actively supported by Snapchat – almost 57% then went to vote in the US Midterms. This compares to around 260,000 additional votes counted as a direct result of a push via the app.
Moreover, Snapchat launched a spectrum of election day Lenses and stickers to encourage users to vote back in 2018, with listings of polling locations in the Snap Map.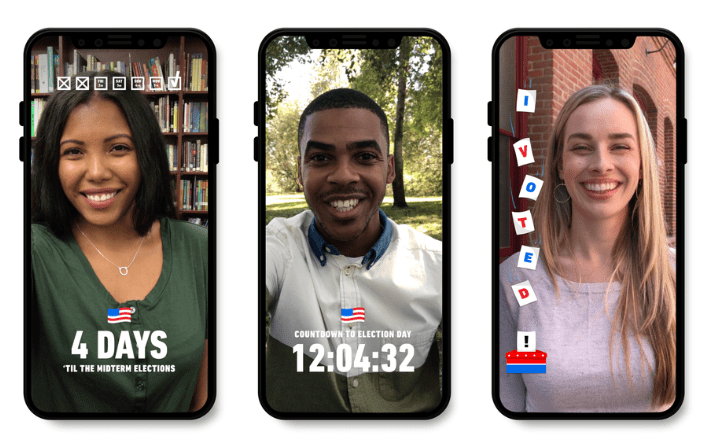 Using Snapchat in the US Election:
However, 260k is only a fraction of the total voting population in the US in the 2016 US Presidential Election, for instance, some 138 million people cast their votes, afterward, we saw Donald Trump call victory over Hilary Clinton. Anyhow, the margins of victory in key seats were very narrow in most of the seats where Donald Trump won over Hilary Clinton, in light of that, fewer than 200k votes were separating the two.
That also suggests that encouraging 260k more people to participate could have a meaningful impact.
Moreover, Snapchat also notes that there are 57% of young voters were encouraged through Snapchat and this percentage is higher than the 36% of 18-29-year-olds overall that ended up voting in Midterms.
We can say that Snapchat users are more open to political messaging and that means they are more likely to vote based on the campaigns they are exposed to.