YouTube appears to have stepped up its efforts to clean up inappropriate content on the platform. YouTube CEO Susan Wojcicki wrote a blog post in which she reiterated the Google-owned video site's goal of preserving openness through responsibility.
She wrote "Over the past several years, we've redoubled our efforts to live up to our responsibility while preserving the power of an open platform. Our work has been organized around four principles"

"Over the next several months, we'll provide more detail on the work supporting each of these principles. This first installment will focus on "Remove". We've been removing harmful content since YouTube started, but our investment in this work has accelerated in recent years. Below is a snapshot of our most notable improvements since 2016. Because of this ongoing work, over the last 18 months we've reduced views on videos that are later removed for violating our policies by 80%, and we're continuously working to reduce this number further."
This comes in the wake of the recent "Elsagate" $170 million settlement. Some content on YouTube presented to children was not adequately moderated or reviewed. As a result, plenty of ostensibly child-friendly, cartoonish videos were revealed to contain decidedly not child-appropriate content.
YouTube said that it has removed more than 100,000 videos and 17,000 channels containing inappropriate content in the form of hateful speech during the last quarter, marking a 5x rise over Q1 2019.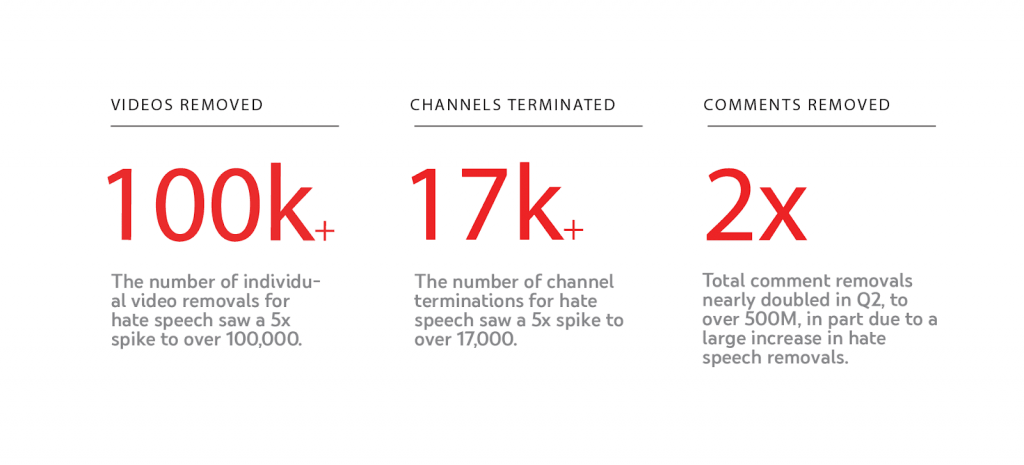 It also removed a total of 500 million comments, twice the amount compared to Q1. The increase in comment removals is largely due to the removal of older comments, the company said. Since 2016, the company has been able to reduced views of videos violating its policies by 80%.
For more clarification, YouTube has also provided this visualization of its evolving removal processes.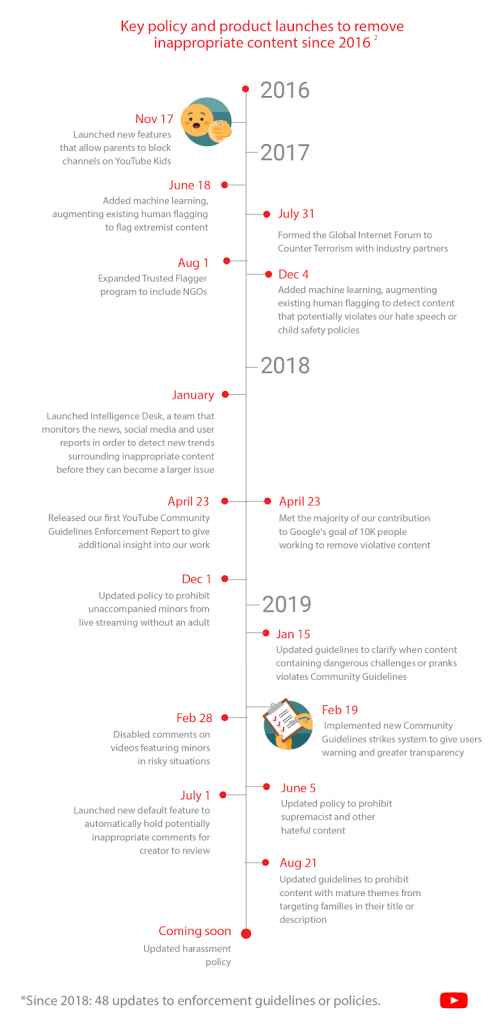 YouTube is taking the challenge seriously, and while it's unlikely to totally eliminate negative elements from its platform. The data and stats here suggest that it is improving, and working to limit misuse.