As a marketer, one of your main goals is to reach your target audience and to make them familiar with your product/service. The basis on that, content creation plays a vital role because when you create content you provide important information to your audience besides attracting potential customers to your website and increasing engagement.
B2C Content Marketing Vs. B2B Content Marketing
Content marketing is important for both B2C and B2B companies; however, what is the difference between both of them. In a simple way, B2B content marketing is more about engagement, on the other hand, B2C is more about the actual conversion to a sale.
Anyhow, in the long term, the most successful B2C marketers will likely be those who focus on deeper parts of the customer journey, for instance; using content marketing to generate sales\revenue and to build a loyal audience.
Keep reading on for more insights into the current state of B2C content marketing…
Also Check: The B2B Content Marketing 2020: Benchmarks, Budgets, and Trends—North America
B2C Content Marketing Success & Maturity 2020:
This report shows that B2C companies in the sophisiticaed\mature phase of content marketing maturity report levels of content marketing success when compared with all respondents. The percentage of B2C marketers that say their organization is in the sophisticated \mature phase of content marketing maturity is 39%.
The chart below shows how B2C marketers rate their organizations' content marketing maturity level:
10% of B2C marketers rated their organization content marketing with sophisticated, which provides accurate measurement to the business, scaling across the organization.
However, 29% of B2C marketers rated their organization content marketing as mature; yet challenged with integration across the organization.
29%  stated that their rate is adolescent, as explained the organization content marketing will be more sophisticated with measurement and scaling.
On the other hand, only 7% said that their rate is the first step, which means the organization did not begin to make content marketing a process.
Eventually, just 1% of marketers are unsure about their organization's content marketing.
B2C Content Marketing Goals & Metrics
In this chart, the goals that B2C marketers have achieved by using content marketing, successfully in the last 12 months.
Only 84% of B2C marketers have used content marketing, successfully in the last 12 months to create brand awareness.
The top 3 goals that were achieved in the last 12 months were creating brand awareness by 48%, educating the audience by 75% and building trust by 65%.
The rest of the goals were generating demand\leads by 61%, building loyalty with existing clients and customers by 55%, supporting the launch of a new product by 51%, nurture subscribers\audience\leads by 49%.
The lowest percentage goes to generating sales\revenue by 48%, building a subscribed audience by 38% and driving attendance to one or more in-person events by 36%.
 Tips on Creating B2C Content Marketing Strategy 
In order to create a one of a kind content marketing strategy, make sure to consider these tips:
Add visuals to your content, visual content marketing always gets high engagement; for example: use infographic template.
Get high engagement by running social media contests, not only that but you can grow your email list, increase your social reach and retarget users.
Avoid long and complicated hashtags and use User-Generated Content (UGC) as it is a great way to give your brand presence and increases engagement.
Provide content that your customers actually need and want and most importantly make it personal. Personalize your brand to reach more customers and to get high engagement.
Make customers trust you and be loyal to you and that's by providing offers and discounts and programs that help them.
Table of Content of "B2C Content Marketing 2020" Report: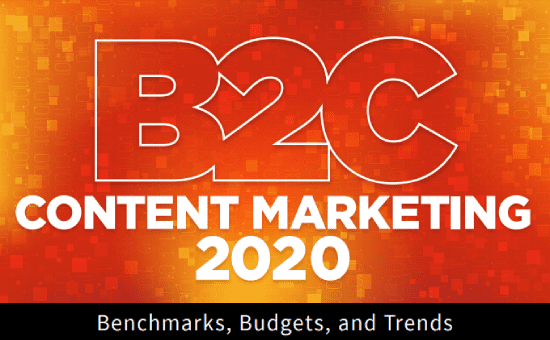 Welcome
Key Findings
Success & Maturity
Strategy, Opinions &technology
Team Structure & Outsourcing
Content Creation & Distribution
Metrics & Goals
Budget & Priorities
Methodology
About
Number of Pages:
Pricing:
Methodology:
B2C Content Marketing 2020: Benchmarks, Budgets, and Trends was produced by Content Marketing Institute (CMI) and MarketingProfs and sponsored by Sitecore. The CMI/MarketingProfs 10th annual content marketing survey, from which the results of this report were generated, was emailed to a sample of marketers using lists from CMI and MarketingProfs. Online survey hosting, data collection, and tabulation were provided by Readex Research.
A total of 1,798 recipients from around the globe—representing a full range of industries, functional areas, and company sizes—replied to the survey during June/July 2019.
More than 250 respondents (256) indicated their organization is a for-profit company, primarily selling products/services to companies (B2C).
This report presents the findings from the 179 B2C respondents who indicated a) their organization has used content marketing for at least one year and b) they are a content marketer, involved with the content marketing function, and/or someone to whom content marketing reports.