Even though we are developing every day and technology is taking over, fintech isn't being used to its full potential.
When it involves financial management, Gen Z as well as millennials are far more likely to refer to social media influencers as their preferred source.
Let's know more about fintech customers in this report!
The Time for Fintech Is Now:
Since most challenger banks rely on transaction fees to remain viable, a global economic downturn would be expected to slow them down.
proof of that,  over 40 new challenger banks have emerged in the last year, and this fintech customers report shows a significant increase in the number of people logging into several of these apps on a monthly basis.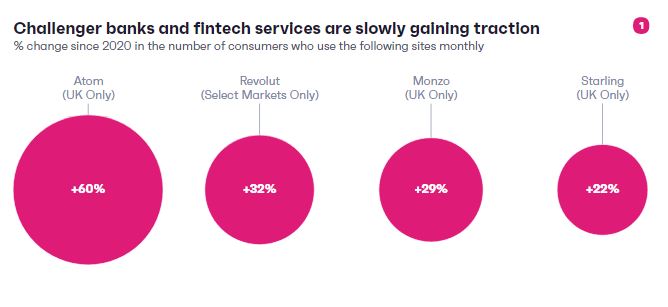 And now, we'll go through the usage of fintech tools for fintech customers: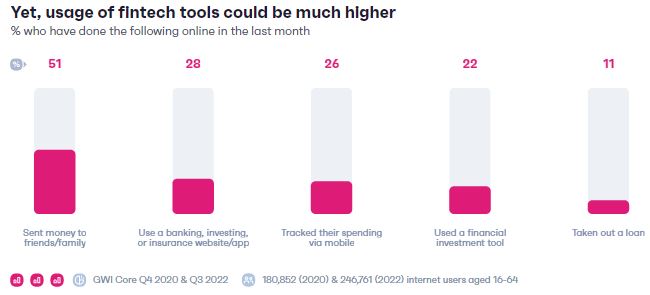 According to the chart, 51% of users sent money to friends/ family online in the last month.
In addition to 28% use a banking, investing, or insurance website/app.
Also, 26% tracked their spending via mobile.
22% of users used a financial investment tool.
Finally, 11% of users have taken out a loan.
Opportunities Around the World:
The financial world has to look at each continent from new perspectives. With each region ready for a chance regarding its own set of solutions and challenges, a minority of people tracks their investment tools, spending, and taking out loans online.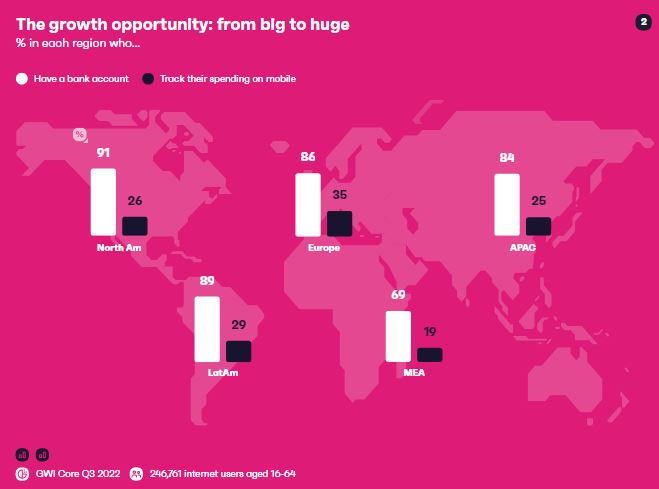 Let's take a look at the statistics about fintech customers:
91% of users in North America have a bank account, and 26% track their spending on mobile.
89% of users in Latin America have a bank account, and 29% track their spending on mobile.
86% of users in Europe have a bank account, and 35% track their spending on mobile.
69% of users in MEA have a bank account, and 19% track their spending on mobile.
84% of users in APAC have a bank account, and 25% track their spending on mobile.
Following the COVID-19 pandemic, international investors are once again pumping money into Africa's start-ups, which are working to bring the continent's unbanked population into the financial mass market.
Users in this region do not have the hard online expectations that their Western counterparts do, and they are more open to trying out new aspects.
While growth will not be consistent, trends often take off much faster in MEA countries than elsewhere, which is encouraging for fintech companies and their funders.
There is more to know about fintech customers and finance, why don't you take a look at the full report here?
The Table of Content of "Finance & Fintech: Knowing Your Buyers and What They Want" Report:
Discover our data
Key insights
The time for fintech is now
The various paths to financial wellness
Financial literacy scores
Turning novices into experts
More from GWI
Appendix
Notes on methodology
Number of Pages:
Pricing:
Methodology:
All figures in this report are drawn from GWI's online research among internet users aged 16-64. Our figures are representative of the online populations of each market, not its total population. Note that in many markets in Latin America, the Middle East and Africa, and the Asia-Pacific region, low internet penetration rates can mean that online populations are more young, urban, affluent, and educated than the total population. Each year, GWI interviews over 900,000 internet users aged 16-64 in 50 countries via an online questionnaire for our Core dataset.
A proportion of respondents complete a shorter version of this survey via mobile; hence the sample sizes presented in the charts may differ as some will include all respondents, and others will include only respondents who completed GWI's Core survey via PC/laptop/tablet.