In order to reach your customers, you need to be on their radar. This can be achieved through search engine optimization (SEO), which involves creating high-quality content that people will find useful and appealing and optimizing it for specific keywords related to your industry. However, since the digital world is developing at a fast pace, so does search engine optimization!
Augmented reality (AR) is the latest development in search engine optimization that provides opportunities for businesses to boost their marketing efforts. Augmented reality incorporates real-world objects with a digital aspect, often seamlessly. When used properly, this marketing tool can help enterprises to engage customers better and enhance search engine optimization. Right now, they're just words. Let's prove it!
Further in this article, we will delve into how search engine optimization can benefit from AR, what the advantages of implementation of AR in your marketing strategy are, and discuss in detail the background of SEO with Augmented reality. Stay with us, and keep on reading!
Augmented Reality SEO: Background
Augmented reality has been around since the 60s, but it has only reached consumers with the rise of handheld devices. Today we all have gadgets with front- and rear-facing cameras,  in addition to various built-in sensors. Our smartphones show directions, measure distances, "orientate" in space, and recognize objects.
With all the technological leaps, it's easier to overlay information on surroundings and view it through a device. It's only natural that search engines and social media giants are the pushing force for AR development.
Google Search with AR allows you to find whatever you want online by typing, dictating, or searching with an image. In a second, you can put a 3D object of whatever you've been searching for into the room.
In an attempt to draw attention to their search engines, Bing and Yahoo are also trying to incorporate AR.
Bing aims to be more helpful to users that search for nearby places. It shows locations like restaurants, grocery stores, and gas stations right in search. 
Yahoo focuses on bringing news to your environment. You just need to launch the Yahoo News app, click on the title, scan the ground, and watch a story unfold in front of you.
The AR market is massive and growing. According to Statista, the mobile AR market size is forecast to approach 17 billion U.S. dollars in size by the end of 2022, while about 1.1 billion users actively practice AR mobile capabilities.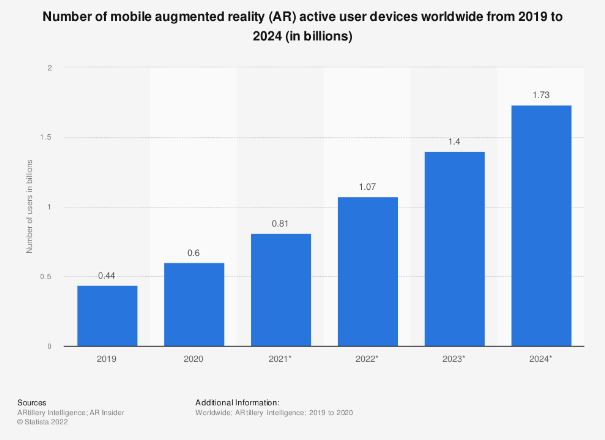 AR hardware is also becoming mainstream despite being in its initial stages and reasonably expensive. 
How Does SEO Benefit from the Rise of AR?
With the rise of augmented reality, people will develop better web search methods. Whether it's voice or visual search, SEO is definitely going to change. Let's try to determine how.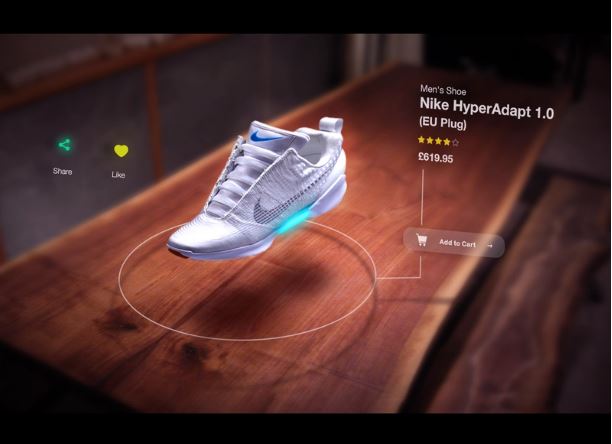 Enhancing Local SEO
Web marketers and digital agencies have been working with AR for a while now, and we can proudly say that it's finding its way into everyday use. Local SEO ranking and its components,  such as having a presence in business listings, have always been a top priority for brick-and-mortar SMBs. Adding AR to the mix makes it vital for any company.
Google Business Profile
Given the scanning capabilities of modern gadgets, many people prefer to point a device at a street for more information rather than typing in a search. It would be much easier for customers to learn more about you and make decisions if you fill in all your business details on the listings on Google.
Third-Party Listings
Specific apps show off a location and company details and display other information. Software like Yelp shows citations, ratings, customer reviews, and further user experience details.
AR-based Interactive Website Experience
A business website is a solid spot to experiment with augmented reality content, as you have complete control over what goes online and more knowledge on keeping your website viewers engaged.
AR-based content is primarily visual and requires interaction with the surrounding environment. AR content is considered any sounds, graphics, videos, or GPS overlays triggered by pointing a gadget at a real-world object. Incorporating it into a website makes it lively and provides interest for visitors.
Many eCommerce sites have included virtual try-on solutions. While the interest in this buying experience increased for practical reasons, virtual activity is here to stay. There are numerous reasons to think so, but the main one is the SEO-related credibility it creates. Bounce rate decreases, affecting the time spent on a site, which gains you more SEO points.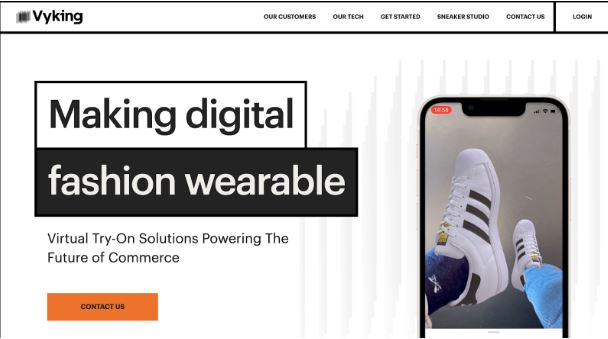 Due to your website's "owned" nature, you can implement cutting-edge technology the way you want. Additionally to choosing a compatible browser, A-Frame, and adding AR support to the web, SEO specialists must prepare websites for new AR features to not harm the user experience. The main criteria are loading performance, visual file compression, mobile friendliness, and other usability factors. Keeping an eye on those factors may seem challenging. Still, suppose you use software for SEO for complete website audits and on-page SEO checks. In that case, it becomes easier to spot potential usability errors and optimize every website page with AR-based content. 
We've talked about the importance of completing business listings above. Tools like Moz Local Listing Score examine and display the quality of your company's online presence across various platforms.
Visual search
This technology helps consumers see and capture anything, then search for it on the internet. Computer vision analyzes images received via your gadget and uses machine learning to find similar products.
Businesses can use this in any field, but it's already the star of the show for fashion outlets and is actively applied in social media by leader brands. Consumers are more than happy to see the technology incorporated into their retail experience since they favor personalization, virtual try-on, and product demonstrations.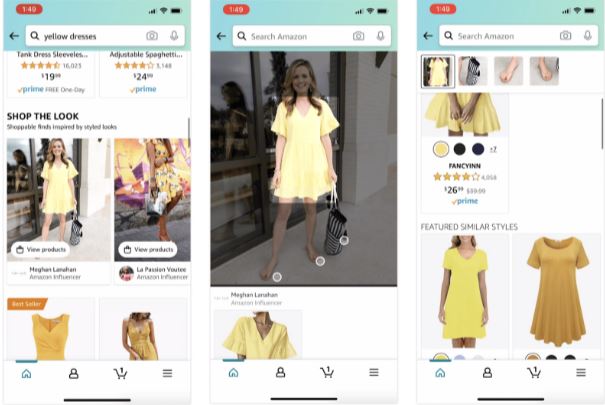 Amazon StyleSnap, Pinterest Lens, and Snapchat Camera Search offer excellent solutions for finding clothing online. Google Lens and Bing Visual Search take it one level further with an informative component (their primary search engine functionality).
Optimized images with proper meta descriptions and alt texts will perform better during visual search. Thus, image optimization becomes the next imperative for marketers.
Generating Customer Reviews and Conversations
Whether you're adding a real-world object with an AR overlay, a 2D sticker that wants video interaction to "come alive," or an activity that suggests social sharing, people will talk about it.
Customer reviews are a staple for brand-building, whether on Facebook, Twitter, Yelp, or Google Local, but it's even more important for user-generated backlinks. The more mentions your brand gets, the more it indicates relevance for the search engines.
Thus, it is vital to use AR to encourage your customers to share their user experience. Social media posts and brand mentions tie into your SEO strategy like an invisible web, bringing you traffic and enhancing your site's authority. 
What Does the Future Hold?
Augmented reality has enormous potential but won't do much if your SEO fundamentals aren't covered. In fact, it might hurt business rather than help.
AR promises a future with wearable gadgets like glasses and headsets, better machine learning algorithms, and even more powerful smartphones. Thus, it's necessary to get ready for the future starting now.
Make image and product optimization a top priority, put some effort into your local listings, and ask your customers to leave reviews.
Conclusion to Augmented Reality SEO
We have discovered that augmented reality (AR) has enabled the fusion of the physical world with digital content, which marketers and brands use to enhance customer experience. Let's enumerate some of the most significant benefits of implementing AR into SEO:
AR is a game changer in local SEO because it takes brick-and-mortar stores, which are generally static, and allows customers to interact with these businesses in new and exciting ways, improving conversions.

Users can view your business in their surroundings by utilizing an AR app and learn more about what you offer in Google Business Profile before they visit.

By leveraging AR in your website, companies make it more interactive for consumers. They, therefore, deliver more traffic than an apathetic website by allowing them to engage with your goods directly.

Object-based search allows consumers to find scanned objects instead of typing a search query. Moreover, it can enhance online shopping by enabling customers to try on virtual items before purchasing them.

Augmented reality can be a valuable tool for getting customers talking about your brand and generating their reviews, thus promoting your brand on social media and increasing overall site traffic.
Bearing in mind all the mentioned advantages of AR for SEO, there might be no concerns left about whether to implement it or not.