Are you looking for the best and most reliable web hosting service available in the market? Both Bluehost and SiteGround are one of the most popular web hosting services there is. Both are leaders and fierce competitors in the world of web hosting. 
But what is the best choice? 
Remember that picking the wrong web hosting provider could hurt your search rankings and business. That's why you need to choose a web host that's specifically tailored for your website. 
In this post, we will give you a head-to-head comparison between Bluehost vs. SiteGround:
Bluehost vs SiteGround in Terms of Popularity
Back in 2015, SiteGround only hosts about 500,000 websites. But as of this writing, they are now hosting approximately 2 million sites, with a hefty four-fold increase in just after three years.
Moreover, the majority of its domains are hosted on WordPress, making it more experienced in handling a WordPress website. 
Meanwhile, Bluehost is founded in 2003, powers over 2 million sites, and has not stopped growing ever since it first started. Then, it was bought by EIG, a company that owns a couple of web hosting services back in 2010, and this is where it started to lose some of its popularity, slowing down its growth. 
Winner: SiteGround
Bluehost vs SiteGround in Terms of Pricing
The cheapest shared hosting plan of SiteGround, known as the StartUp, starts at $3.95/month. 
Meanwhile, Bluehost's Basic starts at $2.95/month with a free domain name. But keep in mind that you have to pay for a 36 months upfront price to be able to avail of that price. 
Winner: Bluehost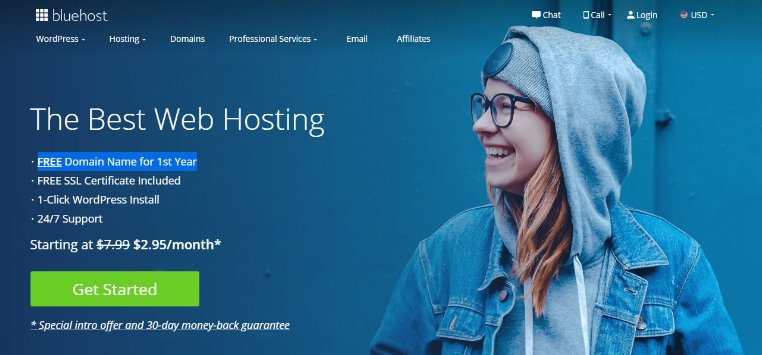 Bluehost vs SiteGround in Terms of Speed Test
Bluehost utilizes industry-leading technologies like OpenStack and KVM to ensure that your site is loading as fast as it could get. 
Meanwhile, SiteGround simply stands out by tapping into the latest speed technologies of PHP7, NGINX, HTTP/2, and a free CDN. 
Winner: SiteGround
Bluehost vs SiteGround in Terms of Features
Bluehost provides you with the usual features that you would expect from a web hosting provider ‒ an SSD storage, unmetered bandwidth, 1-click installers, free SSL, and so on. 
With a more costly shared hosting plan, you would also get unlimited storage, unlimited email accounts, site backups, unmetered SSD storage, $200 worth of marketing offers, and a lot more. 
But when you compare its features side-by-side against SiteGround, the latter simply beats Bluehost. Here are a few unique features that make SiteGround stand out:
Every web hosting plan comes with a free website builder, daily backup, and Cloudflare CDN.

For a few extra bucks, you could avail of a plan that has backup restores and site transfers. You could also improve your page load times with a SuperCacher.

You can also opt for their GoGeek plan that has advanced features like a 1-click Git repo creation and PCI compliant servers on shared web hosting. 
Winner: SiteGround
Bluehost vs SiteGround in Terms of Wordpress Integration
WordPress themselves has come up with a list of their "best and brightest" web hosts and BlueHost tops their list. Interestingly though, SiteGround is third on that list, making it a strong rival. 
Both have excellent WordPress focus, offering auto-updates, 24/7 customer support, one-click installation, and relatively easy site migration and transfers! Both are committed to giving you top quality service, giving users the best WordPress experience possible. 
Winner: Bluehost
Bluehost vs SiteGround in Terms of Customer Support
Bluehost offers 24/7 customer support both on live chat and phone, helping you resolve issues as quickly as possible. They also have an in-house team of professionals that will help you with any WordPress-related issues. 
But in their efforts to focus on providing customers on phone and chat, Bluehost has discontinued email-based support altogether. This can be frustrating if you are dealing with more complicated issues that are a bit difficult to resolve. 
SiteGround, on the other hand, offers excellent customer support on phone, live chat, and email. They also have an expansive knowledge base, helping you with every aspect of your site using their web hosting plans. 
Winner: SiteGround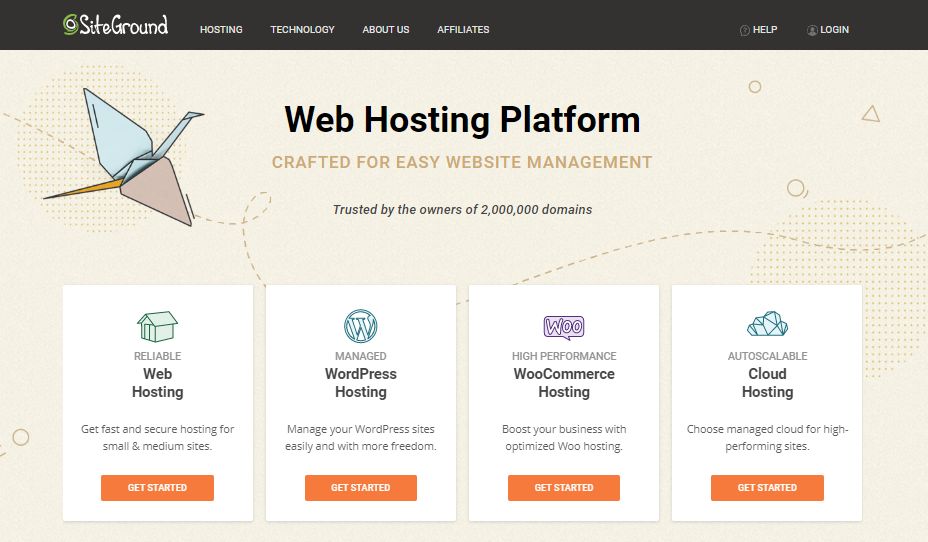 Bluehost vs SiteGround in Terms of Ease of Use
Bluehost provides an excellent onboarding experience, making it easy to launch your WordPress site. Additionally, they have also improved the dashboard of their users to enhance the overall user experience. 
For SiteGround, it only takes three clicks to get started with your website. They also offer a free drag-and-drop website builder to help you come up with a new website in no time. This same feature could not be seen in Bluehost. 
But although Siteground has 1-click website installers and a website builder, it still pales in comparison to Bluehost, mostly because of the latter's onboarding experience for WordPress users that are highly optimized. 
Winner: Bluehost
How to Choose Between Bluehost and SiteGround:
Choose Bluehost If…
You are looking for a more beginner-friendly experience.

If you are on a limited budget, Bluehost helps you save money with its more affordable prices. 
Choose SiteGround if…
You are looking for better website performance.

You are looking for better customer support.