The paid method requires you to have a Premium YouTube account, while the free method can be carried via a YouTube Shorts to MP4 converter. 
In this article, we will introduce you to both these methods and explain all the steps required to successfully download YouTube clips on your device.
So, without further ado, let's jump into it!
Method 1: How to Download YouTube Clips Using YouTube Premium
You can subscribe to the YouTube Premium monthly plan, which includes a family plan and a separate plan for students. In addition to avoiding ads, you can also avail of the video downloading option through your YouTube Premium account.
While YouTube Premium is considered an unnecessary expense, it enables you to download videos for offline viewing. It also offers access to YouTube Originals, YouTube Music, picture-in-picture, and background play.
Here's how to download YouTube clips via YouTube Premium:
Step # 1: Log into Your Account and Toggle the Download Button
Once you've subscribed to a monthly Premium plan, you can go ahead and log into it from your laptop or phone. The Premium account will add a Download button to the right of the Share button, which is located underneath videos on the platform.
Open any video you wish to download for offline viewing and once it's in the main screen display, tap on the Download button at the bottom of the video.
Step # 2: Locate Your Downloaded YouTube Clips
Your downloaded videos will be retained as long as you connect your device to the internet once every 30 days. This allows the platform to confirm your Premium subscription.
The downloaded videos will be in the Downloads section of YouTube, which is located on the left-hand side of the screen on a browser and under the Library tab on your mobile.
Step # 3: Saving the Downloaded YouTube Clip on Your Device
Unfortunately, if you're on a desktop or iOS device, you can't turn your downloaded YouTube clip into a usable file because your downloads will only be available for offline viewing.
However, if you're on an Android device with a designated SD card slot, you can toggle the "Use SD Card" button to download videos to the SD card of your Android mobile. To find this button, tap on your profile picture on YouTube, click on Settings, and then tap on Downloads.
Method 2: How to Download YouTube Clips Using SYC PRO
Softorino YouTube Converter PRO (SYC PRO) is an all-in-one downloader, converter, and transfer tool that lets you download, convert, and save YouTube clips to multiple locations. This Mac-exclusive tool comes with iOS-friendly formats to help you download, convert, and transfer YouTube clips to your Mac, iOS devices, or the SD card of any Android device.
Here's how it works:
Step 1: Download and Install SYC PRO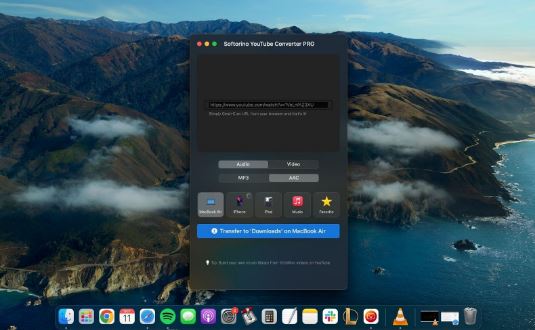 Download and install SYC PRO on your PC. Its free 24-hour free trial comes with all the features unlocked. Install the app, launch it, and activate your free trial by providing your email address and entering the trial key in the app once you get it.
Step 2: Copy the URL of Your YouTube Clips
Now that you have activated your free trial, go to YouTube on your Mac and copy the URL of your favorite YouTube clips. The URL will automatically be pasted into SYC PRO as it comes with a smart clipboard monitoring system. You can copy as many URLs as you like as SYC PRO allows bulk downloads.
Step 3: Convert and Transfer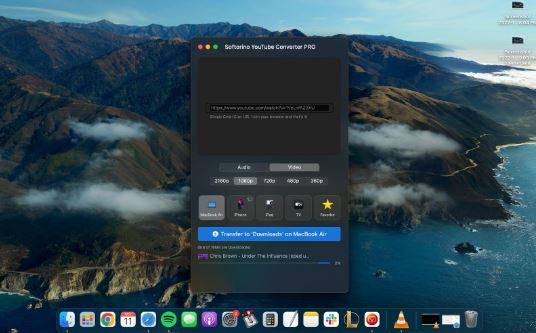 Now select your conversion settings by choosing "audio" or "video" in SYC PRO and picking your formats. You can convert into MP3, AAC, and MP4 formats and select resolutions from 360p to 2160p. 
SYC PRO lets you save your downloaded files in the "Downloads" folder on your Mac, the SD card of your Android device, the Favorites folder in SYC PRO, or your iOS devices.
Note: If you want to transfer your files to your iOS devices, you will first need to connect them to your Mac via their respective USB cables. You can then enable Wi-Fi connectivity to transfer all future files to these devices over Wi-Fi.
Why Choose SYC PRO Over YouTube Premium?
Here's why using SYC PRO is a better way to download YouTube Clips than YouTube Premium:
Unlimited downloads with the free trial

All-in-one downloader, converter, and a transfer tool

No ads or interruptions

Super fast

User-friendly design

iOS- and MacOS-friendly formats

Allows metadata editing for audio and video downloads

Subtitle and playlist downloads

4K UHD support

Allows downloads from YouTube, YouTube Shorts, SoundCloud, Facebook, and Vimeo 
Conclusion
In this guide, we shared how to download YouTube Clips using YouTube Premium and SYC PRO. While YouTube Premium does allow you to watch videos offline, it is not the best option for many reasons. For starters, it ends up being more costly as compared to YouTube video downloaders. What's more, it revokes your access to downloaded videos as soon as your subscription ends.
On the other hand, when you use SYC PRO, you will have access to the downloaded YouTube Clips forever. You can even convert them into MP3 or AAC formats and send them to your iOS devices for offline playback. Use the free trial version SYC PRO to test it out today!
Frequently Asked Questions (FAQs)
Can you download video clips from YouTube?
SYC PRO lets you download video clips from YouTube without any complications. It is a one-stop solution for downloading, converting, and transferring files from YouTube to your iOS devices or Mac. This tool allows bulk downloads and lets you convert YouTube clips into MP3, MP4, AAC formats. It comes with a free trial that you can use to download unlimited YouTube clips in a day.