With 500 million users and over 95 million posts per day, Instagram for Business has become an essential element of social media marketing.
In this guide, we will take a deep dive into Instagram's newly released tools on the Instagram for Business Platform and talk about what the 2016 changes mean for marketers today.
Not only that but also how to set up, grow, and optimize your Instagram strategy to increase your audience, followers, leads, customers, and continue down the path of becoming an (even more) lovable brand.
What Will You Be Using Instagram For?
As we know, the first step with any social media channel is to know and determine your goals. This guide is to help you with Instagram, here are a few examples of goals to accomplish with an Instagram for Business account:
Often companies use Instagram as part of a "brand awareness" strategy, as it's an ideal place to share what your company is all about.
You can use Instagram as a place to showcase deals and customer success stories, or your products.
If you want Instagram to be a part of your lead generation strategy you need to consider that users typically interact with Instagram on a mobile phone.
Do you want to gain followers and then decide what strategy to go after?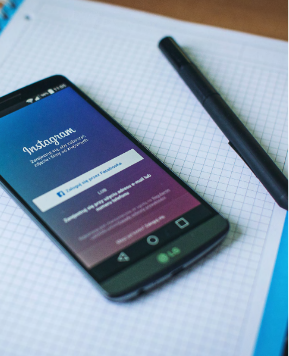 Determine Brand Guidelines
If your company utilizes a visual style guide (colors, fonts, etc.), make sure that your Instagram posts are "on brand" and follow the prescribed guidelines. For instance, does your company only post social images in your brand's specific color scheme on Twitter Facebook? Should your pictures all include your company's logo? If necessary, ask your PR or branding team before posting to agree upon visual guidelines before you get up and running.
Here are some tips and resources to help you:
Use high-quality stock photos: Freestockphotos.org, unsplash.com, deathtothestockphoto.com
Follow the rule of thirds: It states that an image is most pleasing when its subjects or regions are composed along imaginary lines which divide the image into thirds- both vertically and horizontally.
Designate a content creator
Take great pictures
Follow typography rules
For more information make sure to check the "Instagram for Business" guide.
The Table of Contents of "How to Use Instagram for Business" Guide:
Introduction
Determine your goals
Determine your metrics
Determine brand guidelines
Test, repeat, optimize
Anatomy of a great profile and post
10 types of posts every marketer should try
How to use Instagram Stories
How to use Hashtags
How to run a contest to grow followers fast
What the 2016 changes mean for marketers
How to use Instagram's new business tools
Instagram etiquette
Creative inspiration
Conclusion
Bonus checklist & glossary
Number of Pages: 
Pricing: