A content marketing strategy is not the easiest thing to write. A strong content marketing strategy should give you focus, not lock you into less-than-awesome ideas. Moreover, the main key to a great content marketing strategy is to be able to break, tweak, and chuck parts of it as you learn more about what actually works and what doesn't.
Without further ado, let's uncover the tips to a good content marketing strategy through this guide.
How to Write a Content Marketing Strategy Step-by-Step:
Once you have a clear plan on what you want to d, you will be able to move forward. Therefore here are some of the steps you must start with:
Start with an outline, make sure that your strategy answers these three basic questions: why are we making content in the first place? what content do we need? how do we get that content to accomplish our goals?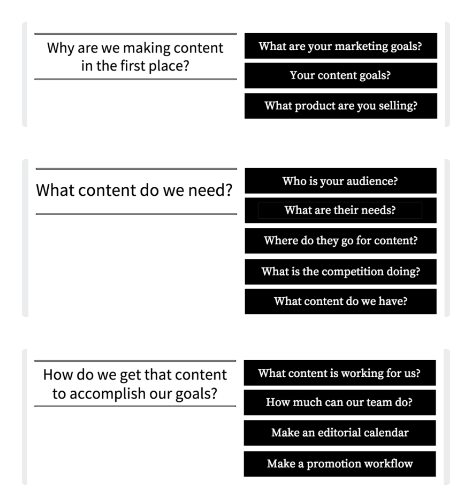 The second step is writing down what you're trying to accomplish, this means writing your content marketing goals and what you're trying to accomplish.
Here's an example of that: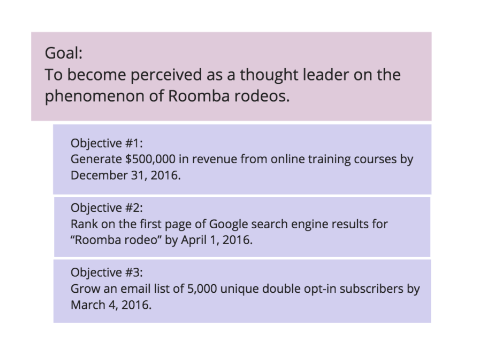 The third step is an optional one which is writing down what you're selling, however, it helps to think through the different product tiers, the sales cycle, and the features.
Moreover, the fourth step is knowing who's going to consume your content. This is by outlining your content's audience, it would be helpful if you've done some of your persona research and if you hadn't you better start now here's a resource to help you develop your own personas: HubSpot's classic persona template.
Make sure to check the full guide for further information on how to write the perfect content marketing strategy.
The Table of Content of "How to Write a Content Marketing Strategy" Guide:
Preface

1. Start with an outline

2. Write down what you're trying to accomplish

3. Write down what you're selling (optional)

4. Now, who's going to consume your content?

5. Map your personas' needs to your product or service

6. Heroes and watering holes

7. Look to the competition's content marketing efforts for inspiration

8. Take inventory of your content

9. Evaluate your existing content

10. What sticks?

11. What should we fix?

12. What should we nix?

13. What should we add to the mix?

14. Sort your effective and prospective content marketing assets by theme

15. List the types of content you'll be dealing with

16. Snapshot the content team and the workflow

17. Estimate your content capacity

18. Map out your editorial calendar

19. Make a content promotion workflow

20. Write the epilogue

21. Write the executive summary
Number of Pages:
Pricing: