Marketing personas are like the foundation for building your marketing house. Without marketing personas, you won't e able to know which message will appeal to your target market's needs, where to reach your audience to build awareness and drive them to your website, or even what to write about in your content marketing efforts.
Let's go through this marketing personas guide.
What Are Marketing Personas?
This is the question you should be asking, according to Ardath Albee "A marketing persona is a composite sketch of a key segment of your audience" this is probably the definitive source when it comes to B2B personas.
Note that, a marketing persona is not supposed to detail one specific person and should never be based on one specific individual. However, it is a composite sketch that should be reflective of the majority of people it is supposed to represent.
Moreover, A marketing persona is meant to represent a segment of your target market, not the whole thing. For example: if your target market is 'Marketers', it is absolutely acceptable to have multiple personas for the different types of marketers so long as there is enough of a difference between them to warrant a separate persona.
4 Steps to Creating Buyer Personas:
According to this guide, there are typically four steps and those are:
Quantitative Analysis: According to the guide, If you have a horizontal product or service that isn't exclusively used by one market segment (i.e. Buffer is used by people from many different industries, job roles, etc), then this is a critical stage to understand what your key customer segments are.
Qualitative Analysis: This step is after you got a good understanding of who your target segments are, at both the company and individual level, it's time to start learning more about these people.
Drafting the Persona: Now that you have a good understanding of who your target segments are and have conducted some interviews with them, you should have all the information you need to start drafting your Personas.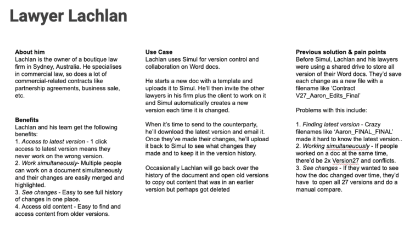 Socializing the Persona: After building your Buyer Personas, this is the time to get the information into the hands of the people who will use them.
Make sure to check the full guide to know more about your personas.
What's in the "The Complete, Actionable Guide to Marketing Personas":
What are marketing personas?
4 steps to creating buyer personas
Stage 1: Quantitative Analysis
Stage 2: Qualitative Analysis
Stage 3: Drafting Personas
Stage 4: Socializing the Personas
Conclusion
Number of Pages:
Pricing: