It is important when managing a brand online to know how to deal with crises. Between planning the next campaign and dealing with a PR crisis, you need to measure results along with progress. Not to mention finding influencers to work with and staying on top of market trends.
There's no shame in asking for help, therefore, this guide shows why the best PR and marketing execs depend on Mention.
Grow Your Online Presence:
Based on the PR and marketing execs dependence on Mention guide, in order to grow your online presence, it is important to listen to all conversations directly about or surrounding your brand. You need to join in besides reminding your customers that you're real people behind your company's logo. Yes, this is doable without leaving the app.
We can see that PR and marketing execs say that Mention was really helpful for them.
"We were able to engage with potential customers on 10x more sources (blogs, forums, social media, etc.) than we did with other media monitoring tools." – Azendoo
"Mention has helped us ramp up our social media presence exponentially. We've seen huge follower growth on our Twitter, Facebook, and LinkedIn." – Como
'When we had a popular Dribbble post talking about design last week, it was so easy for me to look through, identify, and engage with people referencing our post, adding counter-points and posting graphics that related to us. It's proved the easiest way to connect our startup with everyone who's talking about it." – Intercom
Learn About Your Customers:
Because marketing becomes more personal, you need all the customer insights you can get. In order to position your brand, you have to know your customers' pain points along with desires.
In light of that, here is what PR and marketing execs say: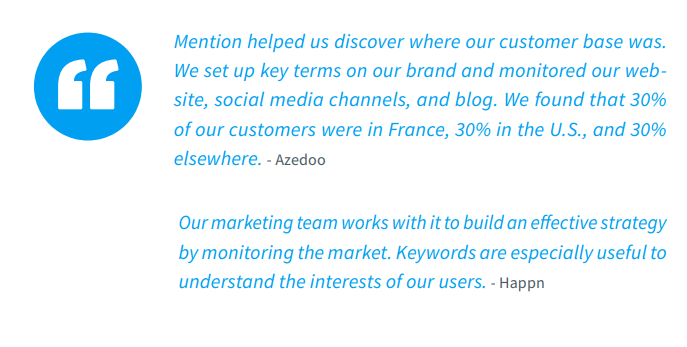 Perform Market Research:
This one is important, as you need to stand out from the crowd, in order to do that you must first learn about it. Make sure to listen to your customers' conversations about your industry and competitors.
Also, make sure to keep up with marketing trends and hot topics with Mention's listening tool.
We can see that PR and marketing execs are happy with Mention:
"We use Mention to conduct market research. We have alerts set up to track our competitors and what people are saying about us in our market. It's become part of our daily routine
to check and optimize our alerts." – Azendoo
The Table of Content of "Why the Best PR and Marketing Execs Depend on Mention" Guide:
Introduction
Monitor campaigns
Find and track PR opportunities
Report results
Get full media coverage
Monitor competitors
Research influencers
Perform market research
Grow your online presence
Learn about your customers
Number of Pages:
Pricing: