Small business marketing actually implies you have to comply with many limitations. In light of that small companies usually don't have unlimited budgets for promotion, and their team's resources are limited because people have to be multifunctional besides doing a lot of different tasks at the same time.
This small business marketing guide will definitely be your savior, it is for entry and mid-level marketers besides marketing managers who need resources for online promotion, along with small business owners who want to know and understand online marketing and how it works to gain traffic and generate leads for their small business.
Interesting, right? let's get into more details.
Small Business Marketing: How to Do PPC (Pay-Per-Click):
Marketers are aware that there is a wide range of targeting options provided by AdWords, however, it is not that easy to just choose a strategy, as failing to pick up a good one can end up making you watch your budget go down the drain.
However, this marketing for a small business guide got you covered with some tips and tricks.
Consider the following while doing PPC:
Start with the right keywords: After deciding how much you want to spend on PPC, it is the right time to search for keywords and select them. Bear in mind that if your campaign budget is limited you need to set the maximum CPC (Cost-Pay-Click). Tools to use to choose the right keywords: PPC Keyword Tool, Keyword Magic Tool.

Create Ads That Work: This is the next step, you can use Ads Builder for this one after choosing your keyword.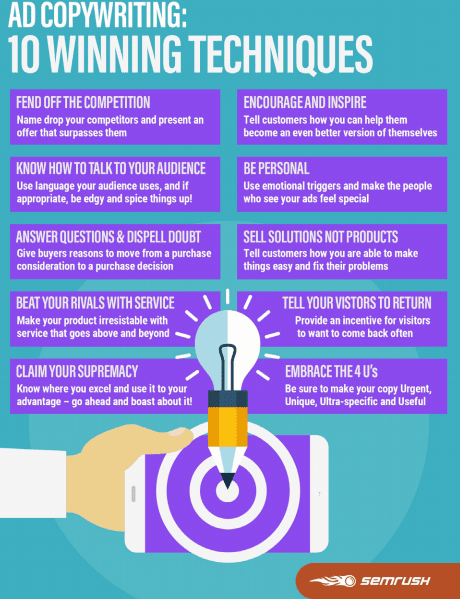 Download the full small business marketing guide for a closer look at all the tips!
How to Deal With SEO and Content:
As mentioned in the small business marketing guide, in order to deal with content and SEO and the fastest way is to select your best-performing pages besides optimizing them to bring more traffic.
Bear in mind that PPC and digital PR will achieve your short-term goals, on the other hand optimizing content plays an important role in the long term though it can have no results immediately.
So, bear in mind to work on your content whole launching your PPC campaign or looking for PR opportunities.
Check the following tips for dealing with SEO and content:
Find the traffic growth points: For perfect results and to see what pages of your website perform best in terms of rankings, traffic, keywords, session length, and also bounce rate, you need data from Google Analytics and Google Search Console.
Optimize the pages that underperform: If you want to increase the rankings of a specific page instead of splitting the traffic between two pages, you can gather ideas on how to do that using this tool SEO Ideas.

Moreover, when you click the link, you will see that there is barely any text on the page, this is the first thing the toll actually suggests fixing in the content ideas.
Make sure to check the full small business marketing guide and get a closer look at every tip, trick, and tool.
The Table of Content of "Online Marketing for A Small Business Guide":
About this guide
Who is this guide for
What will you learn from this guide
Marketing Channels and its effect on traffic over time
Chapter1: How to do PPC
Chapter2: How to find PR channels
Chapter3: How to deal with SEO and content
Number of Pages:
Pricing: