COVID-19 has changed industries, economy, and shoppers' behaviors all around the world, as well as the lockdowns and the stores, shutdowns. Everything has shifted. However, lockdowns and restrictions begin to ease a little in some countries.
This study provides an updated view on the looks towards the post-outbreak future, this study is fielded in 17 countries between April 22-27, the study keeps us updated on how the picture is evolving as some countries actually hope to enter the recovery phase soon.
COVID-19 Study: Many Consumers Are Planning (Very) Slow Returns to Public Places
According to the COVID-19 study, about half of the respondents mentioned that they won't be visiting shops "for some time" or "for a long time".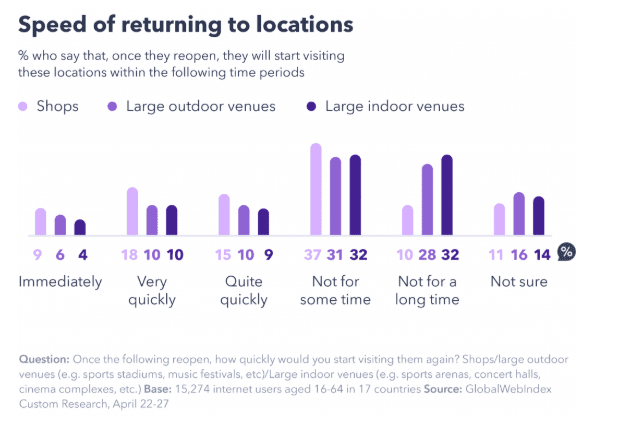 However, the percentage increases to about 60% for visiting large outdoor venues such as music festivals, and sports stadiums.
Moreover, the percentage still increases to two thirds for large indoor venues such as concert halls, cinemas, and sports arenas.
It should be mentioned that the safety concerns are the main driver here across a variety of questions, future behaviors center around minimizing personal risk.
On the other side, in some cases, people actually plan to achieve that by spending less time in public places, while in other cases it is through more usage of things such as digital communication, staying in the local area rather than venturing further afield, and home delivery.
People's Expectations about the Anticipated Length of the Outbreak
According to the COVID-19 study:
People's expectations about the COVID-19 outbreak to last six month or even more in their own country has increased in all markets, this was between early April and mid-April.
In Germany, it is 49% to 71%m in Italy it is 28% to 57%, and in Spain 23% to 52%. That means consumers are now realizing that it will take a longer time than they first expected to recover.
Even though China is considered to be the most optimistic country across all relevant measures, however, in just two weeks the percentage increased from 12% to 26%.
Based on the study, in virtually every country, people remain much more pessimistic about the global situation than their own national one.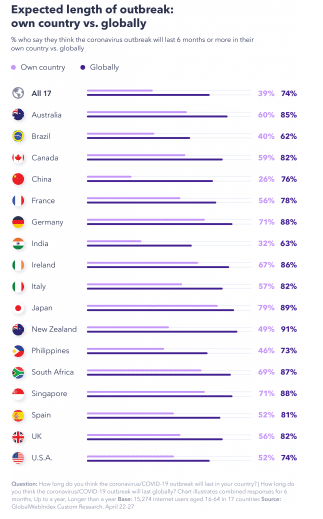 Check the full COVID-19 study and take a deeper look at the insights amid the COVID-19.