Snapchat is growing again. The platform has released its latest earning report for Q3 2019, showing increases in both users and revenue, and beating all market estimates.
ِAccording to the report, Snapchat earned $446 million in revenue, which is up a whopping 50% year-over-year, with an EPS loss of $0.04, beating Wall Street's expectations of $437.9 million in revenue and EPS loss of $0.05.
Snapchat added 7 million Daily Active Users in the third quarter, as the DAUs were 210 million in Q3 2019, compared to 203 million in Q2 2019 and 186 million in Q3 2018.
The app saw user growth in all regions. As 5 million of the 7 million new users came from the Rest of World, with just 1 million coming from the North America and Europe regions.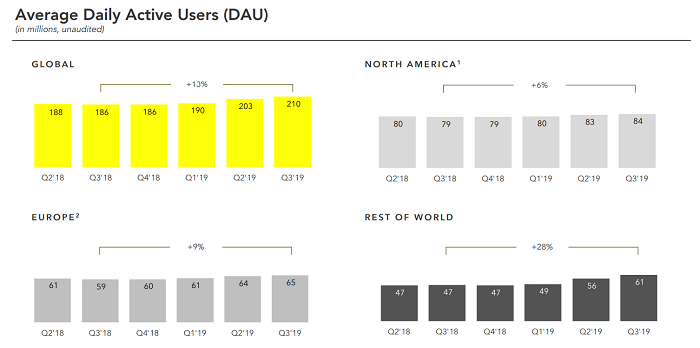 In the past, Snapchat hasn't made it easy for people on lower-quality devices to use its app. But the latest Android update released in April, addressed this to a significant degree, and now it's reaping the usage benefits.
Worth noting – Android is the most used mobile operating system in developing countries.
But it's not all good news as TechCrunch has noted, Snapchat's 'Rest of World' users are not as profitable as those in other markets. According to the report, Snapchat serves so much high-definition video content but it earns just $1.01 average revenue in the Rest of World, compared to $3.75 in North America.
So it seems that the new Snap's users are not yet as profitable as those in other markets, yet Snap needs to incur more technical costs in order to continue to support these new users.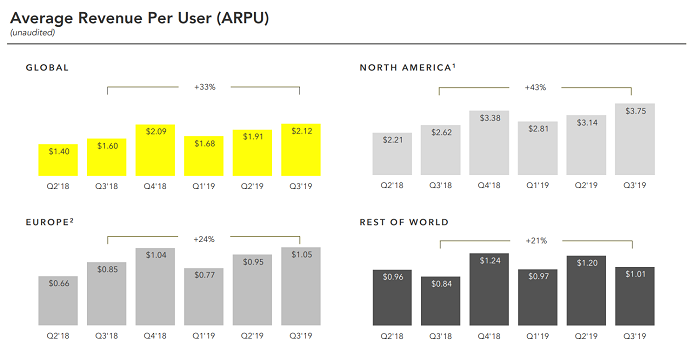 "We delivered strong results this quarter, and we are pleased that the investments we have made are continuing to drive the growth of our community and our business," said Snap CEO Evan Spiegel in a statement. "We are a high-growth business, with strong operating  leverage, a clear path to profitability, a distinct vision for the future, and the ability to invest over the long term. We are excited about executing on the many opportunities in front of us."
Check out Snap's full Earning report of Q3 2019 here