We have seen many updates on social media platforms amid the COVID-19 pandemic. Facebook made many updates on its platforms: Facebook, Facebook Messenger, Instagram, and Whatsapp.
Talking about the messaging application Whatsapp, it was previewed by Facebook CEO Mark Zuckerburg late last week. that WhatsApp has officially announced the launch of the new feature which 8-person, encrypted video chat, the feature doubles the capacity of WhatsApp group video calls.
The 8-Person WhatsApp Group Video Chat Feature
In light of that, WhatsApp mentioned "The COVID-19 pandemic has meant that many of us are isolated from friends and family, and as a result, we've seen that people are turning to voice and video calling on WhatsApp more than ever before. Group calling has been particularly useful and our users have asked to connect with more people at once. Starting today, we're doubling the number of participants you can have on a WhatsApp video or voice call from 4 to 8 people at a time."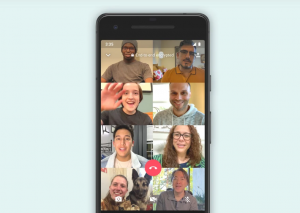 As explained, the 8-person WhatsApp group video chat encrypted feature will help people to connect and communicate while they are at home due to the COVID-19 pandemic. Additionally, WhatsApp notes that the group video calls are available as well through Facebook's Portal home speaker device.
WhatsApp said, "We know people may want different ways to connect while they're at home, which is why WhatsApp is also available on Portal – which many users have told us has been a great way to share their living room with family during the quarantine."
WhatsApp also mentions that video calls, like messages, are protected with end-to-end encryption. Not only that but also it's also sought to build its expansion of group video calling along with mobile data limitations in mind. However, many WhatsApp users who are in developing regions, which means the access to data is not as readily available, so its been working to minimize the system's demands to assure that as many people as possible can utilize the feature to connect with family and friends face-to-face, in a practical sense.
In addition, Facebook also said that group video chat options have seen a 10x increase in usage during COVID-19, because everyone is staying at home and wants to communicate, so it is logical for Facebook to add more tools such as expanded WhatsApp group chats, upon people's demand.