As we know the competitive intelligence landscape has changed, and many more just like automation, data proliferation, and measurement tools.
Apparently, it is easier than ever now for a new competitor to go to market, also it is easy to adjust market messaging, release new product features, or even expand into new markets.
The need for competitive intelligence has never been greater. Without further ado, let's get through the competitive intelligence state in 2020.
What Is the Meaning of Competitive Intelligence?
CI – that refers to competitive intelligence- is a field which is dedicated to capturing, analyzing, along with driving activities related to a company's competitive landscape.
CI data includes anything and everything about a company's competitors. There are many names we can call on CI such as market research or business strategy.
As reported, by the competitive intelligence state, large enterprises face the most competitors, however, for all size businesses they have seen an increase in the number of competitors year over year, with the average climbing from 25 competitors to 29.
CI teams are growing, in other words, (57%) of businesses have CI teams of two or more dedicated CI professionals, compared to only 37% of businesses two years ago.
Also, the competitor website was tared the top source of competitive intelligence data, with 98% of businesses saying this source was valuable.
The Competitive Intelligence State 2020: Competitive Intelligence Teams
CI teams are growing more than ever. the insights of the competitive intelligence state report that more than half (57%) of businesses have CI teams of two or more dedicated CI professionals, compared to only a percentage of 37% of businesses two years ago.
Also, as per the competitive intelligence state, a percentage of only 6% of businesses still don't have anyone committed to competitive intelligence, even part-time.
Anyhow, the percentage of businesses not investing in CI continues to shrink year over year.
The chart below shows the number of employees dedicated to CI: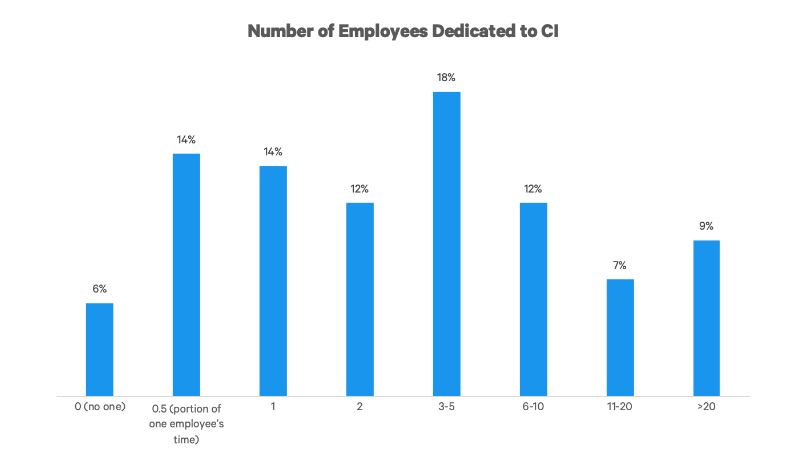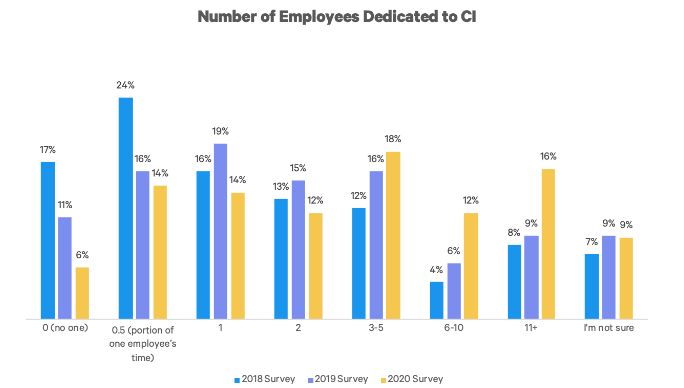 The Table of Content of "2020 State of Competitive Intelligence" Report:
Introduction
Investment
CI Teams
CI Budgets
Industry Competition
CI Process
CI Research
CI Outputs
Results from CI
Key Performance Indicators
Revenue Impact
Challenges
Best Practices
Conclusion
Survey Methodology
Number of Pages:
Pricing:
Methodology:
The State of Competitive Intelligence survey was open November 11, 2019through December 15, 2019. More than 1,000 individuals responded during that period. Of the respondents involved in competitive intelligence for their organizations, 29% are full-time competitive intelligence professionals, 46% do some competitive intelligence as part of their role, 16% are stakeholders consuming CI deliverables, and 9% are consultants who work at CI agencies. The majority of respondents were in North America.