Influencer marketing is now a highly sophisticated marketing strategy. For years, it was synonymous with Instagram, that's no longer the case with the rise of TikTok and social media usage across all social platforms hitting an all-time high.
Without further ado, let's go through this report.
Commitment to Influencer Marketing:
Influencer marketing continues to grow for enterprise marketers, as they run more campaigns and commit more budget. Moreover, when looking at budgets, the vast majority of marketers plan to increase their spend over 2020.
According to the report, 71% of enterprise marketers who knew how the marketing budget would be allocated in 2021 mentioned that their influencer marketing budgets would increase over 2020.
The following chart shows how many influencer marketing campaigns did marketers run back in 2020: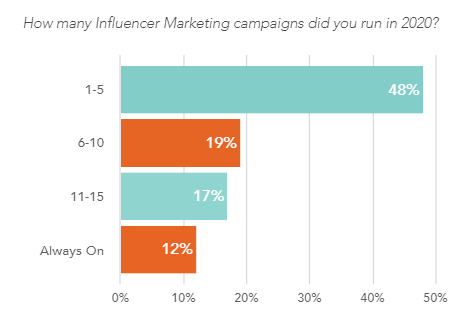 According to the following chart, 71% of marketers mentioned that they will increase their budget in 2021.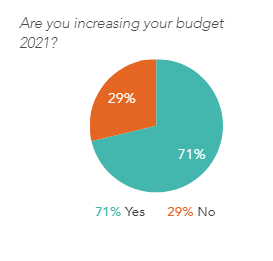 Types of Influencers:
Based on the influencer marketing report, micro-influencers have always been the top choice for marketers in Linqia's annual survey, however, this year, there was even a stronger demand for this powerful group.
The report shows that a percentage of 90% of marketers selected that they wanted to work with micro-influencers, up from 80% in 2020. Moreover, it continues to be the next largest segment, with 72% of marketers selecting this group, up from 64% in 2020.
The following chart shows what influencer type marketers want to work with in 2021: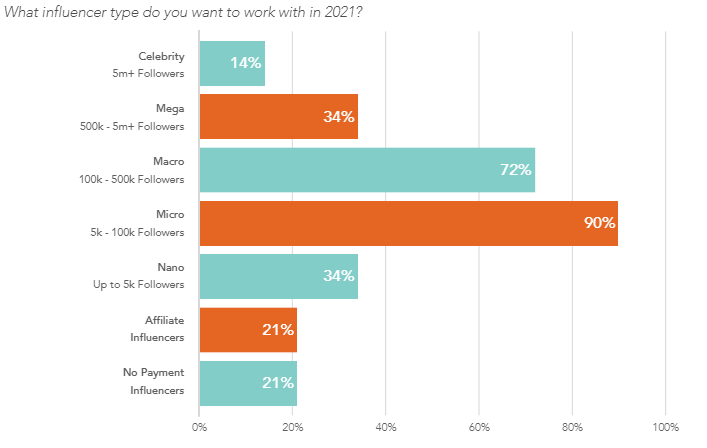 The Table of Content of "The State of Influencer Marketing 2021 Report":
Introduction
Commitment to Influencer Marketing
Types of Influencers
Social Media Platform of Choice
Vertical Vide Influencer Content: Finding a Repurposeo Continues to Grow
Influencer Content Performance
Measuring Success
Shoppability
How to Improve Influencer Marketing
Conclusion
Number of Pages:
Pricing:
Methodology:
163 enterprise marketers and agency professionals participated in The State of Influencer Marketing 2021 Survey across a variety of industries including CPG, Food & Beverage, Media, Retail and their agencies. Companies who participated in the survey include Allstate, Best Buy, Clorox, L'Oreal, Mindshare, PepsiCo, Publicis Sapient, Starbucks, and T-Mobile. This survey was conducted in February – March 2021.