Influencer marketing gives brands an essential means in order to reach and engage audiences in ways that are meaningful and meaningful for them, not only that but also fulfilling their need for connection besides building up a brand's position as we start to enter a new phase.
Keep on reading as this influencer marketing report will dig into the impact of the COVID-19 outbreak on consumers' behaviors.
Social Media Usage Spiked and It's Set to Last
According to GlobalWebIndex, Two-thirds of consumers who follow influencers say they're likely to continue using social media to the same extent once restrictions are lifted.
According to the custom influencer marketing research, 72% of consumers who follow influencers in the US and the UK say that they are spending more time on social media per day since the COVID-19 outbreak.
The charts below show the percentage of consumers who follow influencers who say they spend more\less time on social media since the COVID-19 outbreak.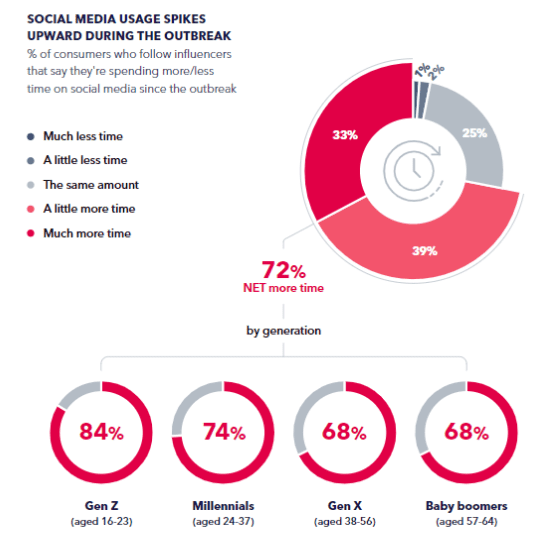 The chart below shows that social media usage is expected to endure post-outbreak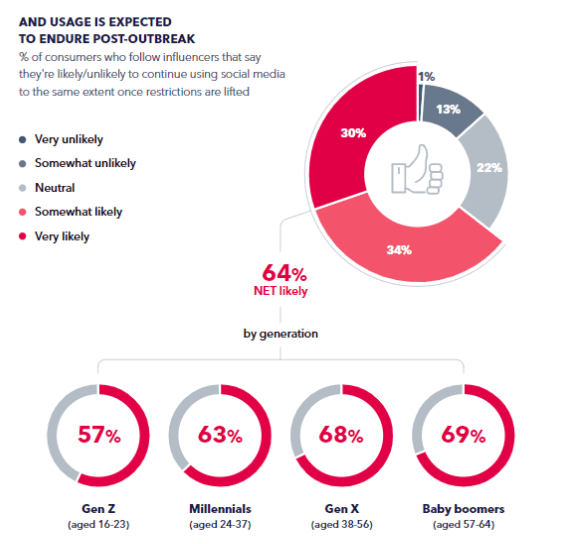 Influencer Marketing: What Types of Content Do Followers Want More of?
Talking about the importance of content, we know the content categories that are making consumers tick, however, what types of content do consumers want to see more from the creators they follow?
According to the influencer marketing research, memes\funny content is the top content choice for Gen Z and millennials.
As shown in the chart below the top 5 categories of content are: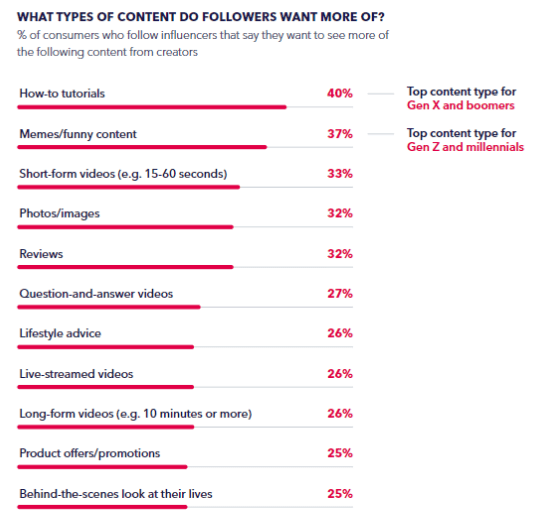 How-to tutorials with a percentage of 40%.
In the second place, memes\funny content with a percentage of 37%.
Followed by short-form videos (e.g. 15-60 seconds) with a percentage of 33%.
Photos\ images omes in fourth place with a percentage of 32%.
Moreover, reviews videos get the same percentage as well.
The Table of Content of "The Age of Influencer Report 2020"
Foreword
Introduction
The impact of COVID-19
Staying relevant post COVID-19
Building connections and trust
The purchase journey
Key takeaways for brands
Methodology
Number of Pages:
Pricing:
Methodology:
All figures in this report are drawn from GlobalWebIndex's online research among internet users aged 16-64. Please note that we only interview respondents aged 16-64 and our figures are representative of the online populations of each market, not its total population. To do this, we conduct research across a range of international and national sources, including the World Bank, the ITU, the International Labour Organization, the CIA Factbook, Eurostat, the US Bureau of Labor Statistics as well as a range of national statistics sources, government departments and other credible and robust third-party sources.