Certain MENA markets are already facing their second wave of COVID-19 and numerous continue to be buffeted by the economic recession, recognizing new strategies for growth is necessary for brands. This year's winners incorporate a variety of new ways that can help brands to build strong strategic frameworks that have growth baked in.
Keep on reading and check this MENA strategy report in 2020.
Strategies for Growth
From finding niche audiences in smaller markets to growing more booming touchpoints, marketers in MENA are becoming more resourceful and creative in how they grow their brands.
This year's Grand Prix from TunisieTelecom shows how to engage a specific audience by assisting them with a particular problem and being part of the solution. Judge Aakriti Goel, Strategic Planning Director, CheilMEA, commented: "This showed a telco using its network for a good cause: doing something good for society as well as driving business growth."
Target the Frontier Markets:
Frontier markets represent a huge opportunity for business growth. So what would it take for an emerging, often rural audience that already has access to feature phones to switch to mobile data?
Moreover,resist the temptation to ignore smaller markets and audiences that could unlock significant growth for your business, as shown by Grand Prix-winner TunisieTelecom, writes Wunderman Thompson's MelekOurir.
Where the shortlisted case studies came from? The chart below explains it all;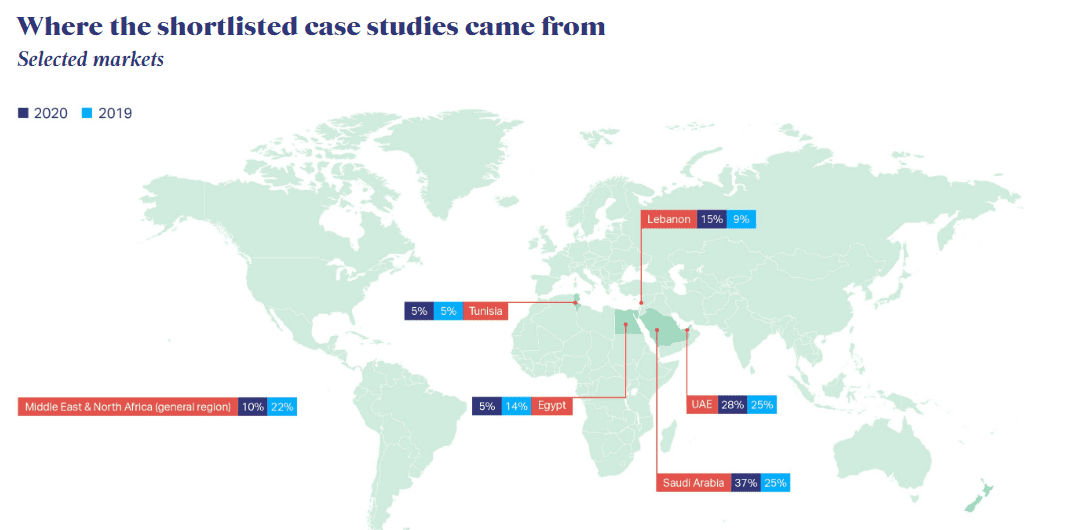 As shown in the graph, the shorlisted case studeis came from Middl East and North Africa ( general region) in 2020 (10%) and 2019 (22%).
As well as Tunisia, in 2020 and 2019 (5%).
Along with Egypt in 2020 (5%), and 2019 (14%).
Lebanon in 2020 (15%), and 2019 (9%).
UAE in 2020 (28%), and 2019 (25%).
In addition to Saudi Arabia in 2020 (37%), and 2019 (25%).
Download the full report about the MENA strategy in 2020 here.
The Table of Content of "2020 MENA Strategy Report":
Takeaways
What this means for
Introduction
Chapter one: Themes from the winning campaigns
Target the frontier markets
Unconventional touchpoints can underpin the strategy
Humor: A strategic shortcut to likeability
Localize to resonate
Chapter two: Winning case studies
Chapter three: Data
Number of Pages:
Pricing: