This report talks about the state of PR in 2020, as the lines between PR, social, digital, and marketing become more blurred.
Therefore, this report will provide you with insights into how PR and marketing communications professionals across the globe measure their success, use the tools at their disposal today, and describe their roles.
Without further ado, let's get into details.
The State of PR in 2020: The Meaning of PR nowadays
Nowadays, PR professionals are more social than before. The top PR offerings are not just press offices and media relations, it goes more beyond that such as social media management 77%, influencer marketing 67%, link building for SEO 56%, and content marketing 77%.
Even though there is a shift towards digital, PR professionals still report on traditional media coverage, however, there is only a percentage of 38% report on analytics from influencer campaigns.
In light of that subject, and according to the state of PR research, it is reported that influencer marketing is also widely considered and recognized as a PR offering specifically in Italy, South Africa, and the US.
Influencer marketing is considered as PR offering over the globe, to be specific, in the Americas and Southern Europe, with almost unanimous consensus in the US with a percentage of 87%, and Italy with a percentage of 91%.
Check the chart below for the full insights.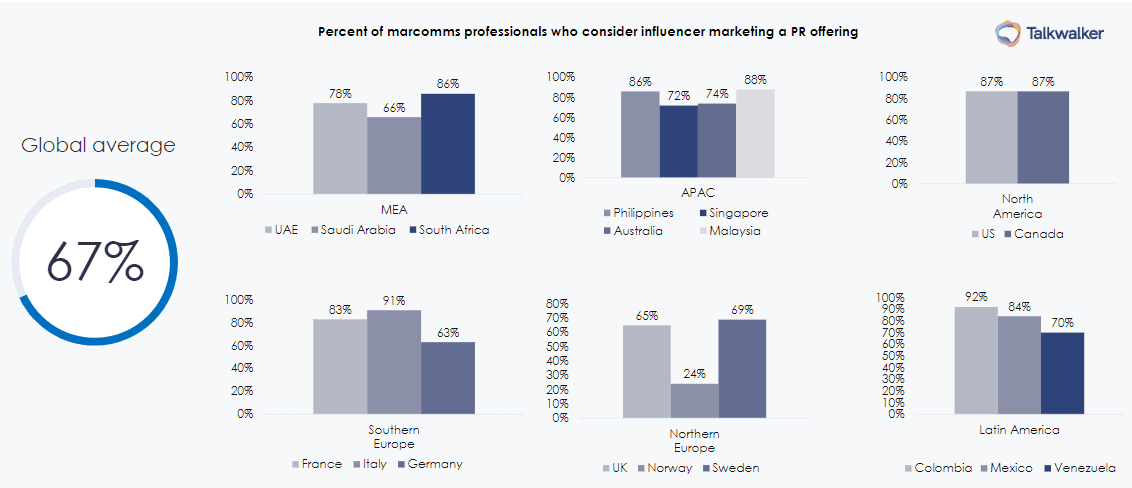 Using Social Media Listening Tools for PR
Based on the state of PR research, it is reported that there is a percentage of 48% of marcomms professionals use social listening and analytics tools.
Moreover, 80% of PR corporate positioning for senior executives globally is not driver by social media analytics.
Additionally, there are 15% of PR professionals globally worldwide who use social listening tools for newsjacking.
On the other hand, there are 52% of global marcomms professionals who highlighted engagement as a key metric just to prove the value of their work, However, there is only 17% who consider a share of voice is a key metric.
The chart below shows the percentage of PR pros who use listening tools for executive positioning and stakeholder analysis in different countries.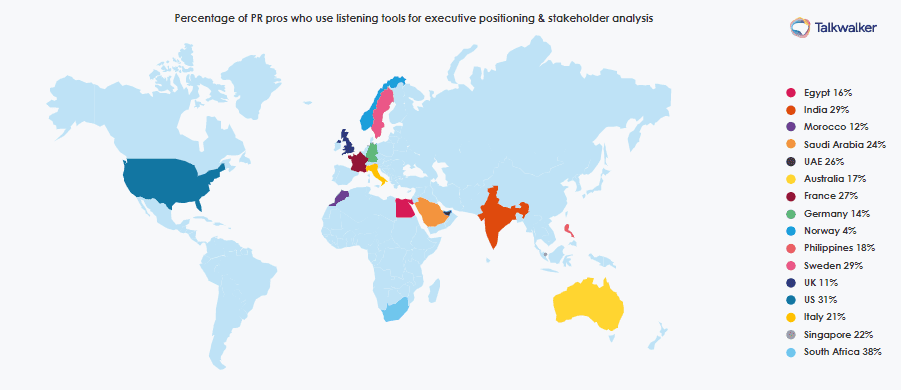 With social media becoming a key PR offering, social analytics now critical to PR reports. The following chart shows the element marcomms professionals report on today.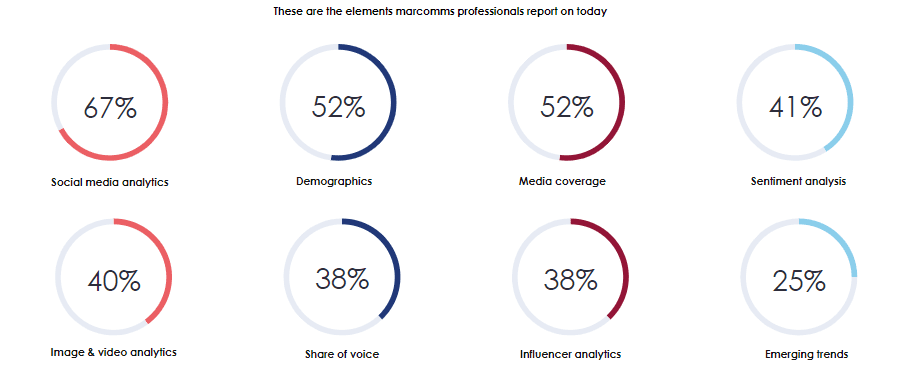 For further information and insights about the state of PR 2020, make sure to check the full report.
The Table of Content of "State of PR 2020 Report":
Introduction
What does PR mean today?
Using social media listening tools for PR
Working with influencers for PR brand collaborations
Library of helpful resources PR pros can start using today
Number of Pages:
Pricing:
Methodology:
Online interviews via YouGov's proprietary panel and Talkwalker'sdatabaseStructured quantitative questionnaires fieldwork was conducted between Oct 29, 2019 -Dec 31, 2019.