Looking for ways to get your ads in front of the right people? With Facebook, you can set up location targeted ads for a store traffic objective. With targeted Facebook ads, you can already target users based on their country, state and city. Store traffic ads are useful if you're a local business and you want to target users in a particular city. 
With a brick-and-mortar business such as a café, bakery, hotel, gym or retail store, you're looking to drive foot traffic. So targeting your Facebook ads to people in your city or state would be ineffective because you'd be casting too wide a net. So, the better option is to use extended location targeting with Store traffic ads.
For some retailers, in-store foot traffic is critically important to enable brand experience and feet on the ground are simply more valuable than lines in a database. But there's only ever so much available budget. For a long time, it felt that these retailers had to choose: online or offline?
Along comes Facebook. Social media may only have been widespread for the last few years personal touch has allowed retailers to invest heavily in activity that is simultaneously branding and DR.
In this case study, IKEA and iProspect collaborated and successfully displayed how targeted Facebook ads can have real impact on retail footfall.
IKEA is a European multinational group that designs and sells ready-to-assemble furniture, kitchen appliances and home accessories, among other useful goods and occasionally home services. Founded in Sweden, It has been the world's largest furniture retailer since 2008.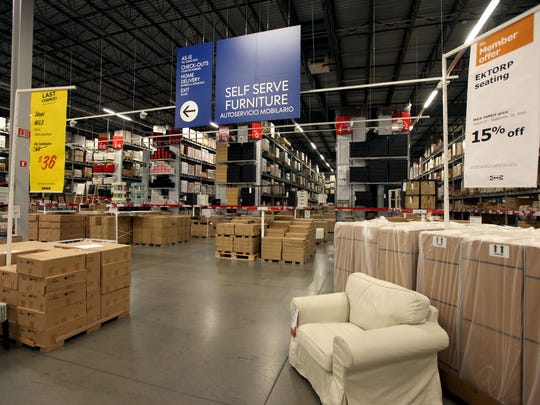 PROBLEM
There's always been a logical relationship between social media and brand awareness and loyalty, which surely must increase visits and sales. Plenty of studies suggest as much, and gradually social has become an accepted part of the marketing mix.
iProspect partnered with IKEA, Facebook, EE and Vizeum (Dentsu Aegis Network partner agency) to trial highly experimental technology, combining hyperlocal Facebook ad targeting with all-new tracking technology from EE to test the audacious hypothesis that social advertising as an isolate variable could be proven to drive in-store foot traffic.
SOLUTION
At IKEA Cardiff, Sale activity had been planned to coincide with the New Year and so iProspect knew they'd have something to talk about to the local populace. Working with a relatively limited budget, the priority was to get the highest possible reach within favourable geographic parameters.
A geofenced area was established around the IKEA Cardiff store, connecting together multiple network masts and using triangulation to trace a precise outline within which the team would measure people. Being able to track users from social to sale using mobile geofencing was in itself a huge step forward, a landmark moment for social media and retail alike.
Two separate groups were created: exposed and control. These were based on the phone number of the handset: numbers ending in odds saw the adverts; evens did not. The brilliance of this variable is that it is completely random: there is no pattern to number assignation whatsoever. This measurement was correspondingly integrated with the ads from Facebook to double-verify exposure. Everyone that was targeted/tracked had the same environment, so there was no artificial uplift caused by variables – anything that applied as a variable applied to everyone. 
This was conducted at sufficient scale, with some 173,000 tracked people in each group. They also created bubbles of hyperlocal targeting in surrounding areas: around a sister store in Bristol, the central and metro areas of Cardiff, Newport, Caerphily, Pontypridd and Bridgend. Lastly, to prevent technical cannibalisation the team removed Wales in their on-going UK-wide branding campaign.
During the period 27th December – 11th January they served three Facebook posts by Isobar (Dentsu Aegis Network partner and IKEA's social lead) into the News Feeds of the exposed group while the control group saw nothing. They removed false positives from the dataset, leaving only people who for sure had seen the advert and were definitely in-store.
RESULT
The Facebook campaign served 1.4 million impressions during December 2013 and January 2014. Geo-targeted Facebook ads drove a 31% uplift in store visits by 22-25 year-olds — and an 11% increase in visits overall. ROI was modelled at 6:1 based on sales data – so for every £1 spent on media, there was a £6 return — resulting in additional revenue for the local Cardiff store.
31% Uplift in store visits by 22-25 year olds

11% Increase in store visits overall

1.4M Facebook impressions

6:1 ROI based on sales data
The verdict was in: Facebook advertising has real impact on retail footfall.