ROAS is an abbreviation for return on ad spend, an indicator in marketing that measures how much revenue a business makes for each dollar spent on advertising. ROAS is what our case study today will be about.
All in all, ROAS is pretty much the same as another indicator that's more common to know: return on investment, or ROI. In the case of ROAS, the resources you're spending on digital advertising is the investment on which you're measuring returns.
As a basic understanding, ROAS measures the effectiveness of advertising efforts. The more effectively advertising messages connect with prospects, the more revenue you'll earn from each dollar of ad spend. The higher ROAS is, the better.
Remarketing Lists for Search Advertisement (RLSA) is a function in Google AdWords. Through RLSA, you are able to adjust your search advertisements to the people that have already visited your website before. This lets you optimize your offers and advertisements for these visitors when they perform a search on Google.
In this case study, we'll look at how MVMA Watches worked with 3Q Digital using RLSA and Coordinated Channel Expansion for 75% Year-over-Year ROAS Growth at Scale.
MVMT Watches Inc. is a Los Angeles-based Watch company. They sell quartz watches based on style rather than complexity or cost. MVMT produces Sunglasses and accessories as well. The company was founded in June 2013 and  Movado acquired it in August 2018.
PROBLEM
MVMT and 3Q Digital wanted to improve on their previous year's record-breaking purchase volume while maintaining efficiency during the high-stakes Q4 holiday season.
SOLUTION
3Q used a combination of search audience segmentation (RLSA), coordinated ad messaging and formats, and comprehensive channel exposure.
SEARCH AUDIENCE SEGMENTATION
The team used two main RLSA strategies to capture a very broad set of search intent while ensuring that our brand name was still fresh in the minds of shoppers:
Strategy 1: Using RLSA lists targeting users who had visited the site over the past 90 days (segmented by 7-day increments), the team targeted the broad match keyword +watch, which allowed them to aggressively bid on highly competitive search intent with the confidence that the user was familiar with our brand and product offerings.
Strategy 2: Using RLSA lists targeting users who were shopping on the site over the most recent period (past 3 days and past 7 days), they bid on very broad holiday-specific keywords like +black Friday deals, +cyber Monday discounts, and +gift ideas. This wide net would have been prohibitively expensive without the use of segmented audiences. The traffic gained from this strategy also filled the highly targeted remarketing funnel.
AD MESSAGING AND FORMATS
Throughout their different marketing channels, the team took advantage of price strikeout formats for display and shopping ads, which helped highlight the sale incentives for consumers. With search ads, they used the countdown feature to heighten the sense of urgency during the peak sale events.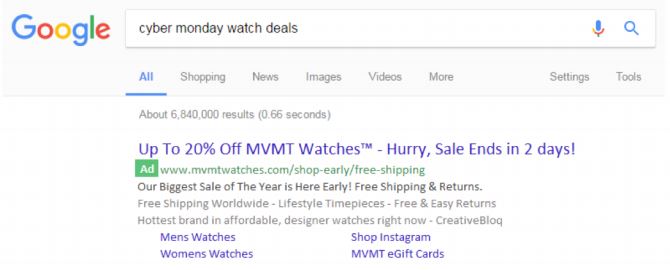 COMPREHENSIVE CHANNEL EXPOSURE
With the understanding that the modern consumer has marketing touchpoints across devices and channels and each instance plays a different role in the purchasing decision, 3Q deployed consistent messaging across multiple marketing platforms including: Google, Google Shopping, GDN, YouTube, Bing, Bing Shopping, Twitter, Yahoo Native, Criteo, Chango, Owner IQ, Quantcast, Yahoo Display, and TheTradeDesk. They also took advantage of a number of CSEs (comparison shopping engines) like NexTag, Connexity, and Ebay.
In order to promote sales and to take advantage of the holiday shopping season, they took CSE optimizations to the next level. In doing so, YoY the team garnered 456% more orders, which grew overall revenue 571%.
With each CSE comes a variety of different specifications, product feeds, and pricing structures. While updating shopping feeds across each CSEs, they primarily focused on advertising a discounted price. One tactic that remained consistent across each UI was the ability to implement strikeout/sale messaging. By just adding an additional column within each feed, they were able to quadruple order volume YoY. 
Based on whichever partner the product is listed on, the updated price will highlight the % savings or $ savings based off of the sale price that was added in.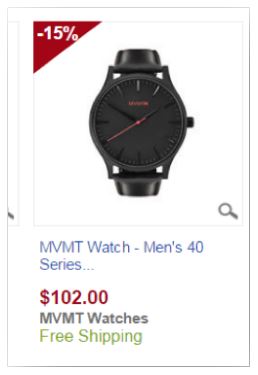 RESULT
3Q Digital was able to achieve a 64% increase in purchases year over year while simultaneously gaining 34% more efficiency per order, which equated to a 75% increase in ROAS for the 2017 season.