SEO and content marketing are very much interconnected and do complement each other. It is known that SEO and content can't work successfully in isolation.
Marketers need to know and understand that both elements complement each other, therefore you need to focus on creating great content if you want your rankings to increase and improve.
Without further ado, let's check the SEO-Friendly content guide for more tips.
The Top 9 Steps to Create SEO-Friendly Content:
In order to create great content you need to bear in mind the following points, without further ado, let's get through them;
Start with keyword research: A piece of content should target one primary keyword, make sure to target 5-10 additional keywords.
The question is how to identify your primary keyword; you need to ask yourself the following; What is my audience looking for? What questions do they ask online?
Identify the right format and determine search intent: You need to identify keyword search intent by Clue words in SERP – Check the following figure-

Then, you need to select the format;

Create a well-optimized meta title: Your meta title should motivate users to go to the website and may include a call to action.
Create a catch H1: H1 is less important for SEO but introduces your content to the audience.
Optimize the meta-description: The meta-description encourages a user to click on the link on SERPs, it should include calls to action, besides targeting an emotion.
Structure your content and make it readable: In order to do this use H2 + H3, and make sure to divide long sentences and highlight main ideas.
Add visual content and optimize it: Visual content, such as infographics, checklists, templates, videos, and images deliver value to your audience faster and in a more catchy way.
Make your URL readable: URLs help users understand what is inside, therefore make it descriptive and as short as possible.
Adjust interlinking: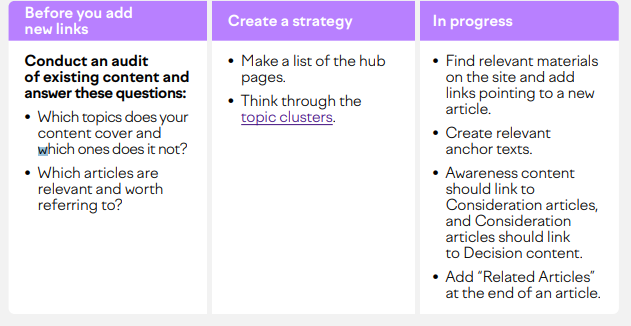 Make sure to download the full '9 Steps to Creating SEO-Friendly Content" guide here to check the full tips.
What's in the "9 Steps to Creating SEO-Friendly Content" Guide:
Start with keyword research
Determine search intent and identify the right format
Create a Well Optimized Meta Title
Create a Catchy H1
Optimize the meta-description
Structure your content and make it readable
Add visual content and optimize it

Make your URL readable
Adjust interlinking
Number of Pages:
Pricing: