Every brand has a reputation regardless if they think they do or not. Your brand is the sum of what people think, say and tell other people about you. Building a strong reputation is one of the best ways to protect your brand helping your organization weather tough times or bounce back quicker from a crisis.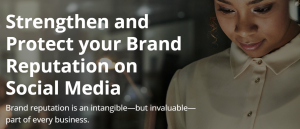 Here are some tips from Hootsuite to strengthen and protect your brand reputation on social media:
Gain a deeper understanding of your audience using social data.
Earn trust through high-quality content.
Build credibility through employee advocacy.
Secure your accounts and shut down threats.
Track brand sentiment to prevent crises.
Ensure compliance with regulatory standards.