2020 was the year of change for all, especially for small businesses, not only that but also it has been a pivot for customers, as people used to spend more time online. However, for brands, this means they need to create outstanding content to keep people interested and inspiring.
Let's go through this and see how TikTok can make your business discoverable.
Get Discovered With TikTok: TikTok for Business
As we know, TikTok is a fresh and one-of-a-kind platform for businesses of all sizes to be discovered. TikTok also has branded solutions needed to help brands reach their advertising objectives and connect with the TikTok community.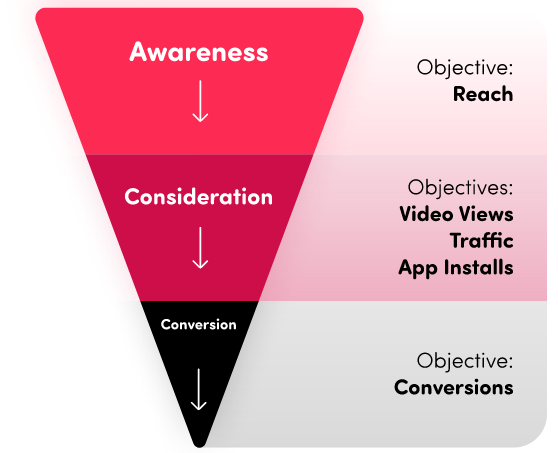 According to the above chart and based on TikTok for business guide, it doesn't matter what your goals are, if you want to get discovered by your exact audiences (Awareness), spark the interest of your audiences in order to learn more (Consideration), or drive important actions for your business (Conversion), TikTok aAds Manager makes the process of establishing and maintaining a presence on TikTok straightforward and easy.
Effective Solutions for Effective TikToks:
According to TikTok for business guide, TikTok Ads Manager provides small business owners with effective solutions for their TikToks. There are some creative and effective tools for editing such as video templates, an Al-driven video editor, and a smart video soundtrack.
Moreover, Business accounts are a type of TikTok account designed for businesses of all sizes, they can help brands promote their brand and measure engagement with real-time analytics on insights into followers, posts, pin-to-top features highlight your best content and additional call-to-action buttons.
More about TikTok for business guide, TikTok Ads Manager's Auction Ads offers a flexible budget giving brands space to quickly adjust spending based on shifting needs.
Make sure to download the full guide here.
What's in the "How TikTok Can Help Your Business Get Discovered" Guide:
TikTok opportunity in changing times
Make TikToks easily
Number of Pages:
Pricing: