There are many and different surveys about the new work-life amid COVID-19 and the changes that have happened because of the pandemic. However, there are still some people who work remotely and others who work at the office, we can see that somethings are back to normal.
Without further ado, let's check these insights and take a look at somethings to keep in mind when designing back-to-office strategies if and when a new normal establishes itself.
Work-Life Amid COVID-19: Only 12% Across the Eight Countries Which Were Surveyed Don't Want to Go Back to The Office At All
Back in July, professionals were asked how interested they would be in working from home permanently. In India, there were highs of 75%, and in Brazil 66%.
However, six months later, when the same group was asked about their ideal place to work once the pandemic is over, a small minority said they'd like to work full-time from home.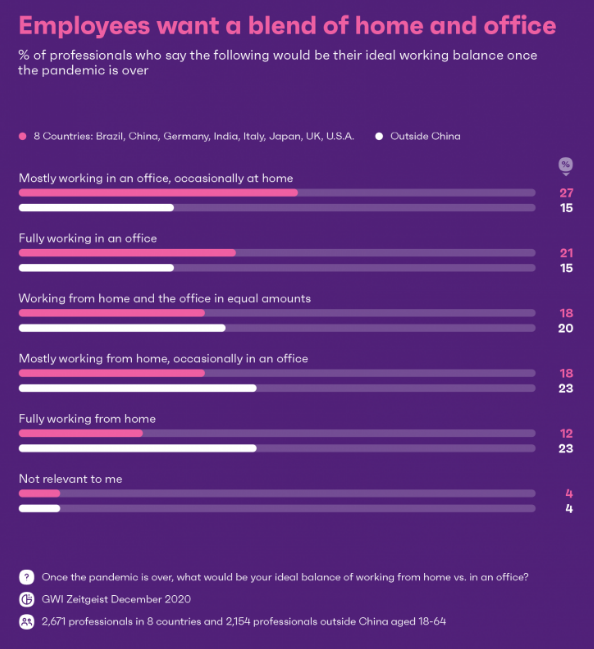 According to the work-life survey amid COVID-19, even the most enthusiastic countries like the U.S. (22%) besides India (19%) post low figures. Moreover, the balance leans overwhelmingly toward returning to the office either most of the time (27%) or all the time (21%).
Obviously, these results suggest some degree of isolation fatigue amongst those working from home, even though it's important to look at country differences.
Almost Half Of All Parents Outside China Would Like to Mostly Or Fully Work From Home Once The Pandemic Is Over
According to the work-life amid COVID-19 research, 21% of parents outside China would choose a 50/50 balance when it comes to working from home or from the office once the pandemic is over.
According to the following chart, parents with young children 61%, and especially moms 64%, are the group most likely to say that spending more time with their family is the biggest advantage of working remotely.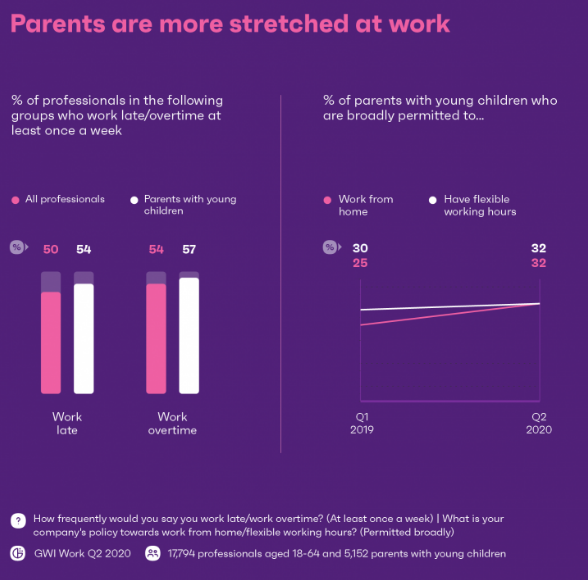 Moreover, that parents with young children are more likely than the average professional to work late and work overtime at least once a week.
Make sure to check the full Work-life amid COVID-19 from here.