Parents are always looking out for their children and with the evolution of technology and children using the Internet. Even though the Internet is a good place to find whatever you are looking for, it has another side that parents would not like their children to be exposed to.
Amidst what the entire world is experiencing now because of coronavirus and the actions which have been taken – lockdown – to restrict meetings and gatherings, starting with closing down the schools and allowing employees to work from home.
Parents, now, have another task to do! As their children need to be online to have their education, they need to be supervised as well.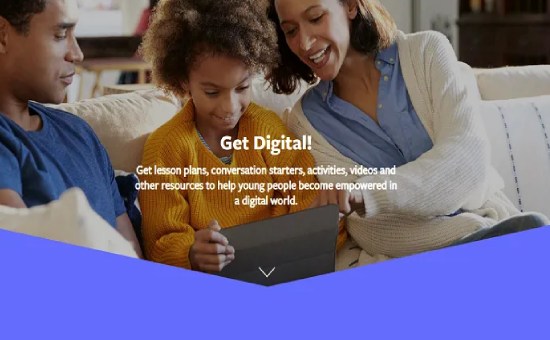 More Details About the New Facebook 'Get Digital' Initiative:
In light of that, Facebook did not stand still but managed to launch a new educational source this week for children, parents, and educators which aims to provide lessons and resources to help young people develop the competencies and skills they need to more safely navigate the Internet.
According to Facebook, the 'Get Digital' initiative includes several dedicated education areas, one on one features a video overview, and links to a range of tools and resources to help improve digital literacy. As well as,  modules on how technology is used for civic and political engagement, understanding algorithms, learning programming, and web design basics, and more.
Facebook's education resources come from an extensive variety of expert sources, including UNESCO, the International Society for Technology in Education (ISTE), National PTA, Harvard University and the Greater Good Science Center. And as noted, the available courses and lessons are also aimed at educators and parents – you can check out the full set of tools at a new dedicated mini-site here.
What Does Facebook Get Digital Initiative Aim for?
Facebook mentioned that the program aims to show the participants how to:
Stay safe online and protect their personal information.
Navigate content and information, and evaluate the trustworthiness of a source.
Build positive and inclusive communities online by being kind and respecting others.
Manage their health and wellbeing by learning how to monitor emotions and develop healthy habits for when to use technology. 
Related News: Google Provides Tools to Help People Amid the COVID-19 Pandemic
Working from Home Tips by Facebook:
As the majority of employees had to work from home, it can be challenging for some people at the beginning and need to adjust to it. Facebook's efforts were not limited to that but  Facebook has also published a new set of tips which it has collected, internally, on how to maximize work capacity and performance when dealing with remote teams.
Related Research: The 2020 State of Remote Work | Buffer
The tips' goal is to help improve team connectivity among a distributed workforce, including notes on maintaining effective meetings, managing workload around caring for children, facilitating active engagement and more. It is easy to access Facebook's full remote work tips listing here.