Lately, we have seen many social media platforms make a move to help users amid the COVID-19 crisis time such as Facebook, TikTok, Instagram, and Snapchat. They all have encouraged staying home till this pandemic is over and provided accurately and trusted information about the ongoing events and situations from trusted sources like The World Health Organization.
Of course, a considerable firm like Google would not miss it to keep you updated and aware of the ongoing events.
For 21 years, Google has made sure that it provides true information and makes it accessible worldwide. In light of that, last week, Google has taken action to keep its users updated about the COVID-19 pandemic.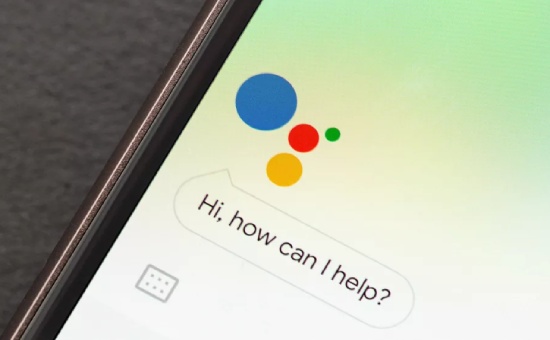 Google's Partnership With the U.S. Government to Provide Trusted Information About the COVID-19 Pandemic
Due to the rapid spread of the virus and because it has become the biggest search topic by a country mile this year. actions were taken and according to Google: "We're partnering with the U.S. government in developing a website dedicated to COVID-19 education, prevention, and local resources nationwide. This includes best practices on prevention, links to authoritative information from the World Health Organization (WHO) and the Centers for Disease Control (CDC), and helpful tips and tools from Google for individuals, teachers, and businesses. We'll be rolling out an initial version of the website late Monday, March 16, and we'll continue to enhance and update it with more resources on an ongoing basis."
As mentioned, there is an educational website about the COVID-19 and it is being developed in association with the Trump administration. Not only that but Google helps people to find timely and useful information through their products, including Search, Maps, and Youtube.
Read Also: Effective Tips and Tools Help Your Business Survive COVID-19 Pandemic
Google is also promoting the "Do the Five" campaign on the Google homepage to raise awareness of simple measures people can take to limit and slow the spread of the coronavirus. According to the World Health Organization "Do the Five" raises awareness of simple measures people can take to slow the spread of the disease.
"Right now on the Google homepage, we're promoting the "Do the Five" campaign to raise awareness of simple measures people can take to slow the spread of the disease, according to the WHO. In the first 24 hours, these tips have already been seen by millions in the U.S. We've added more useful information to our COVID-19 SOS Alerts, including links to national health authority sites and a map of affected areas from the WHO." Google said.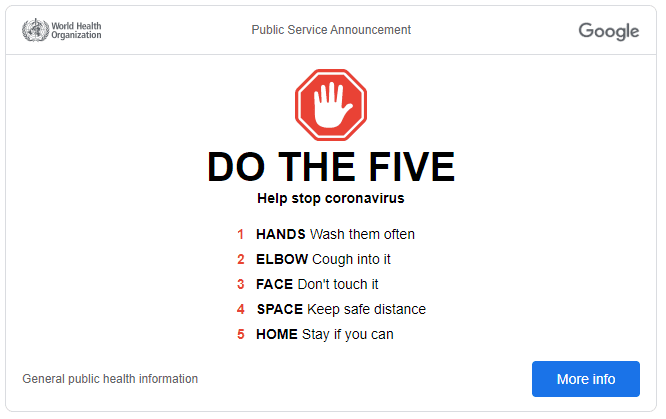 New Search Experience by Google 
Let's talk about more details about the pandemic and how Google is handling this perfectly, starting off with:
The new search experience now not only includes search results but also a number of additional links to "authoritative information" from health authorities and updated data and visualizations.
The search experience now also includes links to a Twitter carousel featuring accounts from civic organizations local to you.
A new "most common questions" section related to the pandemic from the World Health Organization and the Centers for Disease Control and Prevention.
This is rolling out first in the US in English and Google said it would be adding more languages and regions soon.
"This new format organizes the search results page to help people easily navigate information and resources, and it will also make it possible to add more information over time as it becomes available," Emily Moxley, Google's product manager for search, writes in a blog post.
Read Also: 10 Useful Social Media Management Strategies in Times of Crisis: COVID-19 Outbreak 2020
Google Is Looking After the Global Community 
Google's efforts were not over and it continues to amaze everyone due to the responsibility it is taking, how it handles the whole situation from every aspect so far, making sure everyone receives the right information and they are safe and healthy.
"Across all of this work, we're focused on the impact the disease is having on our communities. That includes our own workforce. Last week, we established a COVID-19 fund, which will allow all our temporary staff and vendors globally to take paid sick leave if they have potential symptoms of COVID-19 or can't come into work because they're quarantined. We'll continue to make sure our workforce is supported as this crisis evolves." Google mentioned