Facebook announces the launch of Facebook Pay. The new payment method presents part of Facebook's efforts to make eCommerce more convenient for users and significantly easier for small businesses, "a convenient, secure, and consistent payment experience" across its platforms.
Facebook states in a blog post on Tuesday, that the new service, called Facebook Pay, will allow users to securely send payments to others. Facebook Pay accepts most major credit and debit cards, as well as PayPal.
"With Facebook Pay you can:
Add your preferred payment method once then use Facebook Pay where available to make payments and purchases on our apps, instead of having to re-enter your payment information each time

Set up Facebook Pay app-by-app, or choose to set it up for use across apps (where available) — that means we won't automatically set up Facebook Pay across the apps you are active on, unless you choose to do so

View payment history, manage payment methods and update your settings in one place

Get real-time customer support via live chat in the US (and in more places around the world in the future)

Clearly understand which payment services are part of Facebook"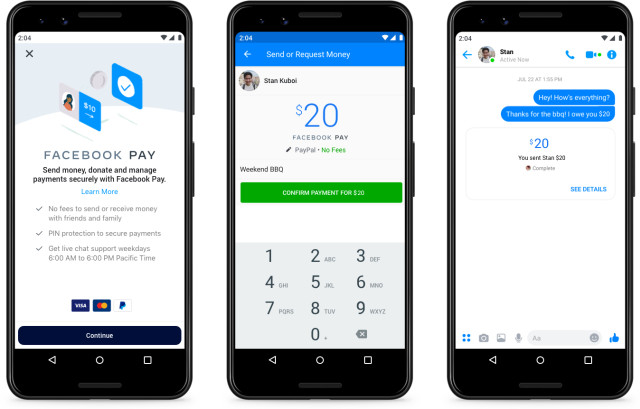 Facebook already allows users to send money through the Messenger app. But with Facebook Pay, users will be able to send money via other Facebook apps. To start, it's rolling out on the core Facebook and Messenger apps, but will be added to Instagram and WhatsApp in the future.
Facebook Pay starts rolling out on Facebook and Messenger this week in the United States only. It will be available for fundraisers, in-game purchases, event tickets, person-to-person payments on Messenger, as well as purchases from some Pages and businesses on Facebook Marketplace.
Facebook also guarantees that all safety measures are followed by Facebook Pay.