This year, B2B marketers face unprecedented challenges and opportunities. B2B Marketers have always embraced an approach that rewards digital fluency.
Without further ado, let's get started with the B2B trend report, data, and insights you need to know in order to take advantage of the opportunities in both the long-term and in the short-term.
Goals, Challenges, and KPIs:
What is the top objective B2B digital marketers target? it is brand awareness. The figure below shows the objectives of digital marketing efforts.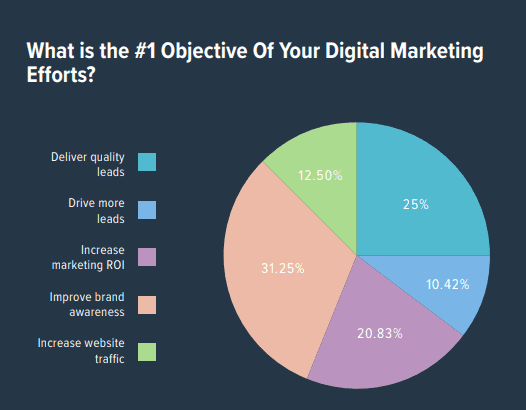 Brand awareness tops the list with a percentage of 31.25%.
Delivering quality leads comes next with 25%.
Increase marketing ROI 20.83%.
Increase website traffic with a percentage of 12.50%.
Drive more leads with a percentage of 10.42%.
COVID-19 insights: building brand affinity for long-term results
As reported, 65% of people say their likelihood of purchasing from a brand in the future would be based on
how well the brand responds to the crisis.
In addition, 88% of business decision-makers believe that thought leadership is effective in enhancing their perceptions of an
organization.
Budgets, Channels, and Content:
It was expected for the digital marketing budget to increase in 2020.
As reported by the B2B trend, 56% of digital marketers expected a budget increase.
On the other side, only 13% predicted a lower budget across the board are in flux as businesses react to the pandemic and brace for a potential recession in the months to follow.
In addition, 27% of B2B marketers report that 40% or more of their total budgets are allocated to digital marketing besides it's worth exploring in more detail.
50% of digital marketers expect budgets to look as originally planned or increase in the second half of 2020.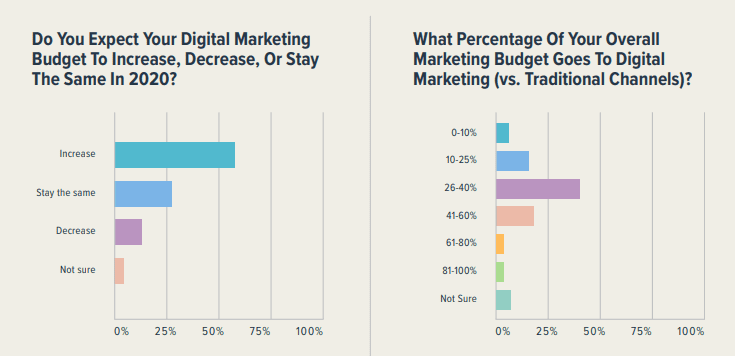 B2B Businesses Are Investing in Mobile
As reported by the B2B trend report, 60% of B2B digital marketers reported that a percentage of 40% or more of their traffic came from mobile devices.
However, in 2019, just over 30% of marketers reported that a percentage of 40% or less of their traffic actually came from mobile devices.
On the other hand, this year, a percentage of 69% of marketers indicated that 40% or more of their traffic came through mobile.
The chart below the percentage of what traffic comes from mobile.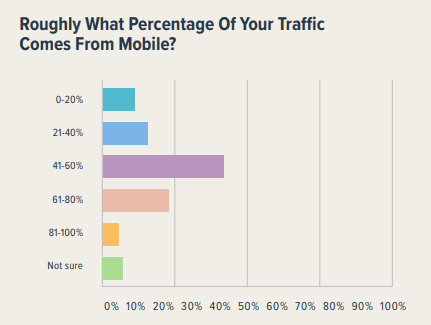 The Table of Content "2020 B2B Trend Report"
Key Trends
Goals, Challenges, and KPIs
Budget, Channels, and Content
Marketing Technology
Conclusion
Number of Pages:
Pricing: