Content marketing was born in the 1990s, however, in the 2010s, content marketing's potential as an organic, value-add marketing strategy was realized. The question is what is in store for the 2020s.
The answer lies in this 2020 state of content marketing report, keep on reading.
eCommerce Platforms:
It is obvious that eCommerce is the sale, purchase, or delivery of a product or service through the web. That includes the physical products that you buy online along with the online services.
Obviously, Shopify and other leading eCommerce platforms offer great features that facilitate selling professional classes, seminars, and services, also other non-product commodities online as it is to sell consumer goods.
Here is a chart that explains the distribution of websites that use eCommerce technologies in 2020:

Email Marketing:
Email continues to be one of the most famous and most efficient content marketing channels for audience nurturing in 2020.
Acoording to the 2020 state of content marketing:
Email marketing delivers an estimated $44 in returns for every $1 spent.
60% of all marketers say email marketing is their top source of ROI.
B2B and B2C marketers cite email newsletters as the top method to nurture audiences.
B2C marketers also cite email newsletters as their top method for securing leads.
81% of B2B marketers and 74% of B2C marketers used email newsletters in the past 12 months.
Social Media Marketing:
One of the most commonly used content distribution channels among marketers in 2020 is social media marketing.
As reported, social media is the top organic content distribution channel among both B2B and B2C marketers.
80% of B2B marketers and 84% of B2C marketers use Social Media Publishing\ Analytics tools.
Moreover, B2B and B2C marketers say social media content is the top type of content used in their content strategies.
95% of B2B marketers an 94% of B2C marketers have used social media content in the past 12 months.
Here are 2 -B2B social media- charts which show the top-rated organic social channels, and the top-rated paid social channels: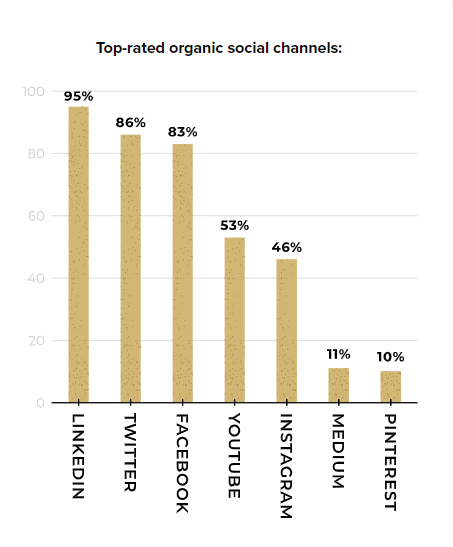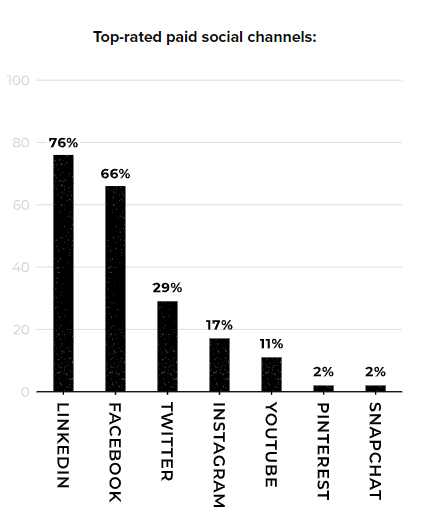 Make sure to check LinkedIn's content marketing in times of uncertainty guide here.
The Table of Content of " The 2020 State of Content Marketing Report":
Introduction
Content Management Systems
eCommerce Platforms
Email Marketing
Marketing Automation & Martech
Social Media Marketing
Search Engines & Web Traffic
Digital Advertising Spend
Total-Content Marketing Spend and Trends
Conclusion
Number of Pages:
Pricing: