After declaring that COVID-19 is a global pandemic, industries, businesses, and economies are affected by it, some had the chance to take advantage of it, and others could not.
However, this report is to gain a better view and understanding of how organizations are approaching the radical changes to business as usual brought about by COVID-19.
Let's dive into the report for further information.
COVID-19 Branding: The Impact of COVID-19 on Brand Strategy
Since the COVID-19 outbreak, there is one question on the minds of every brand professional and it has been "How should we, as a brand, respond to the crisis?"
Even though there is no tried and tested brand strategy to follow, the results imply most organizations are careful not to succumb to rash decisions, therefore they are adopting a more cautious approach.
When professionals were asked about the COVID-19 impact on their rand and content strategy, they had different answers, the chart below shows: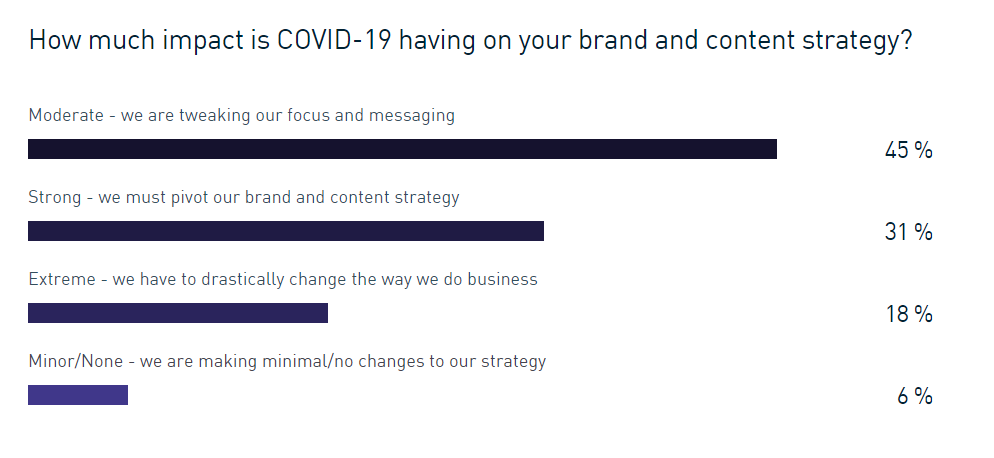 There are 45% of respondents who are tweaking their focus and messaging.
On the other side, there are 31% mentioned that they must pivot their brand and content strategy.
Additionally, there are 18% said that they have to drastically change the way they do business.
Only 6% said that they are making minimal or no changes to their strategy.
During this time, it's more important than ever that brands present themselves with one unified voice and remain close to their brand values.
The Organizational Impact of COVID‑19
There has been a sudden shift due to the COVID-19 and the majority of people have started to work remotely. Not only about working remotely, but also this has raised many questions about productivity, company culture, and team collaboration.
This opens a discussion, will the "new normal" of digital workplaces become a mainstream fixture of working life after the pandemic?
As for working remotely, the chart below shows what is the top challenge teams face while collaborating remotely.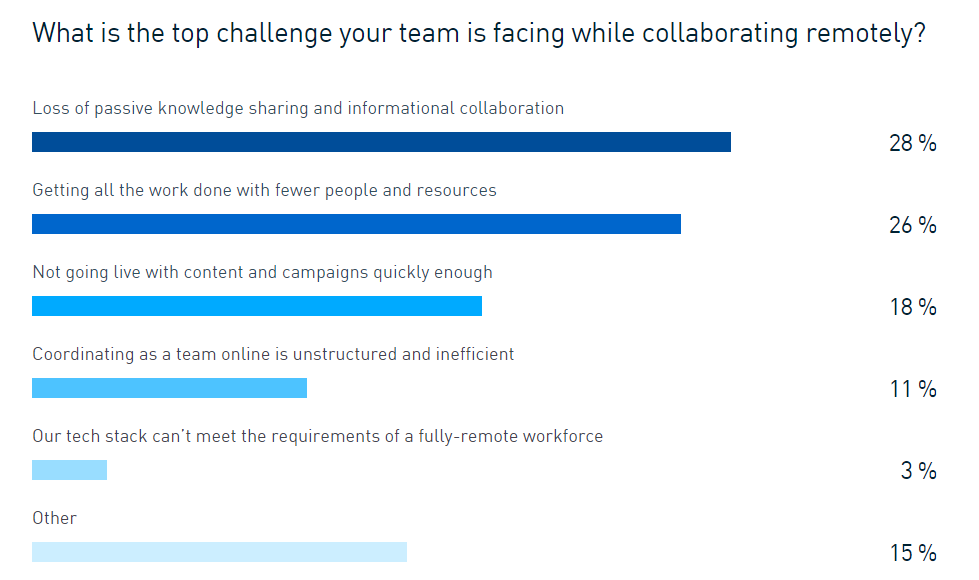 As shown the top challenge was the loss of passive knowledge sharing and informational collaboration with a percentage of 28%.
Comes in second place with a percentage of 26% is getting all the work done with fewer people and resources.
However, the third one was not going live with content and campaigns quickly enough with a percentage of 18%.
Coordinating as a team online is unstructured and inefficient is the fourth challenge with a percentage of 11%
Only 3% reported that their challenge is their tech stack can't meet the requirement of a fully-remote workforce.
However, 15% said other challenges.
How Prepared Is the Marketing Tech Stack to Face the Challenges brought about by COVID-19?
In light of that, people were asked about their marketing tech stack and if it is ready to face the challenges.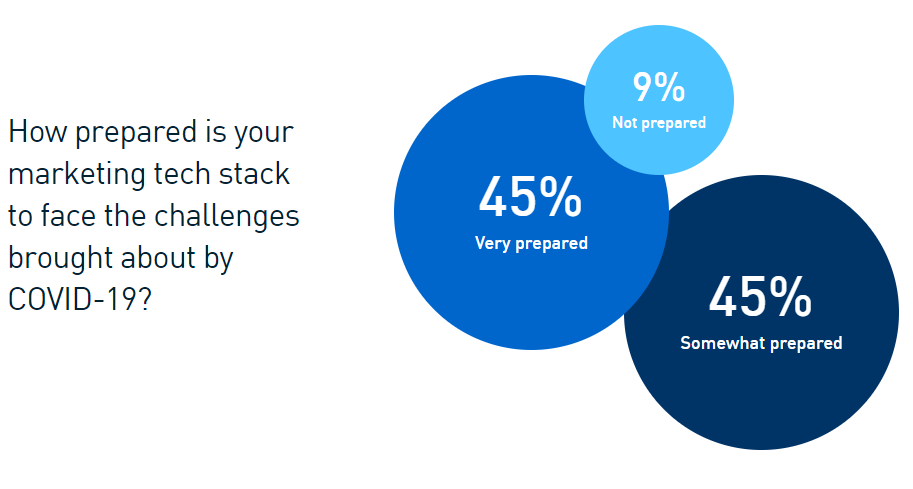 45% said that they are very prepared.
45% are somewhat prepared.
Only 9% said they are not prepared at all.
Report Key Takeaways: 
As the research found out, most of the teams have transitioned to working remotely with minimal disruptions to productivity, even though team collaboration is an area which many found challenging while working as a distributed workforce.
Here are the key takeaways about the report:
It has been reported that 1 in 2 brand professionals see the development of new content, campaigns and new messaging in response to COVID-19 as their highest branding-related priority,
36% of respondents have increased their output of marketing campaigns since the outbreak.
On the other side more than half of the people who were surveyed feel that they need to work remotely has only had a "small impact" or "no impact at all" on team productivity.
However, as reported, the biggest challenge for teams working remotely is the lack of knowledge sharing and content collaboration.
57% of respondents believe that COVID-19 will have a lasting impact on their marketing\brand efforts, however, it won't be transformative.
What's in"

The State of Branding Report:

COVID-19 Edition": 
Snapshot summary
The impact of COVID‑19 on brand strategy
The organizational impact of COVID‑19
Methodology & Demographics
Number of Pages: 
Pricing:
Methodology: 
We conducted this survey to capture a quick pulse of the marketing community's immediate response to the COVID‑19 outbreak. The data included in this report was gathered between April 10, 2020 – April 24, 2020. We received 301 responses from marketing professionals including managers, directors, VPs, and CMOs across a variety of industries.