We are living in an era of change and technology. As everything is evolving around us we cannot neglect or deny the fact that eCommerce is taking the lead nowadays, this report focuses on the top eCommerce trends 2020.
In this report, Divante investigates 40 trends in eCommerce, rates them according to the opinions of over 250 eCommerce experts, and digs deeper into the most crucial among them.
Let's take a look at 2021 eCommerce investments and dig a little bit deeper.
Which Trends Are More Important Now Than One Year Ago?
As reported, Social Commerce is the most important trend this year than one year ago, however, Mobile Apps come last in the list.
However, here are all of the top trends that are important now than one year ago
56% Social Commerce, AI.

52% Marketplaces.

38% Big Data, Security.

31% Content Marketing.

21% AR.

11% Cryptocurrencies.

7% VR, IoT, Mobile Apps.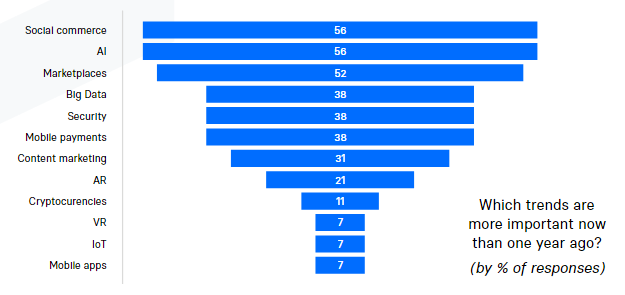 Which Trends Are Less Important Now Than One Year Ago?
As reported, Cryptocurrencies and VR were identified as the trends that have lost most traction going into 2021, with mobile apps not far behind. Moreover, only a small percentage of respondents felt that security and social commerce are less relevant now than one year ago.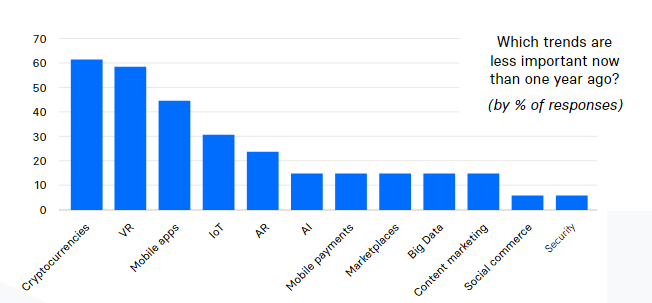 Top 4 Picks for 2021: The Big Movers
There will be an increase in the usage of Al, Social Commerce, Market Places, and Security. It should be expected to have new ways in which customers approach online shopping globally.
Here are the 4 picks for 2021:
Social commerce: Retail social commerce sales in China are estimated to have grown by 11.6% YoY in China in 2020.
A.I.: Personalization through AI lifts sales by 10% or more.
Marketplaces: In 2020, Marketplaces grew 100% while Department stores have remained flat for over 3 consecutive years.
Security: 76% of online consumers consider data privacy and security as top priority factors when deciding where to buy.
Related Article: Top Digital Marketing Trends 2020
The Table Content of "eCommerce Trends 2020 Report":
Welcome to the new world
Introduction and methodology
Our featured experts for 2021
An overview of the 2020 results
A timeline of key eCommerce events in 2020
The question for 2021
2021 eCommerce Trends: Results and reactions
Top 4 picks for 2021
Social commerce
Marketplaces
AI
Security
What's missing and what's missing out?
The eCommerce Trends for 2021
In-depth expert analysis
8 industries. A lightning overview of 2020 and priorities for 2021
New Retail: The view from the East
The CTO'S opinion: eCommerce trends to watch in 2021
Advice for builders
The contributors
Number of Pages:
Pricing:
Methodology:
Instead of canvassing hundreds of people for an opinion, this year, we are asking the leaders who actually build eCommerce what comes next. We are focusing solely on the thoughts of people who spend all day, every day thinking about the present and future of the eCommerce industry