As people looked for new forms of entertainment besides ways to stay connected with others. More people were playing, watching, and streaming than ever before, bringing in new gamers as well as re-engaging lapsed players.
The games marketing report for 2021 shows players' behavior, including their motivations, preferences, and habits.
Games Marketing Insights in 2020:
Back in 2020, the year that brought new and different gamers. It is reported that the number of people playing mobile games significantly increased across the globe as a result of COVID-19.
Moreover, the increase doesn't seem temporary as many mobile gamers who started playing after the initial COVID-19 outbreak are still playing till now.
Based on the games marketing insights, 70% of people report spending more time on mobile devices.
New mobile gamers still prefer to play solo, but they're more likely to engage with multiplayer and social features than existing players.
Additionally, In all countries, new mobile gamers spend more money in-game than existing players.
Gaming Audiences Grow Since March 2020
As proven, the number of gamers is still increasing since March 2020. The chart below shows the gaming audiences grow since March 2020 in the US, UK, S.Korea, and Germany: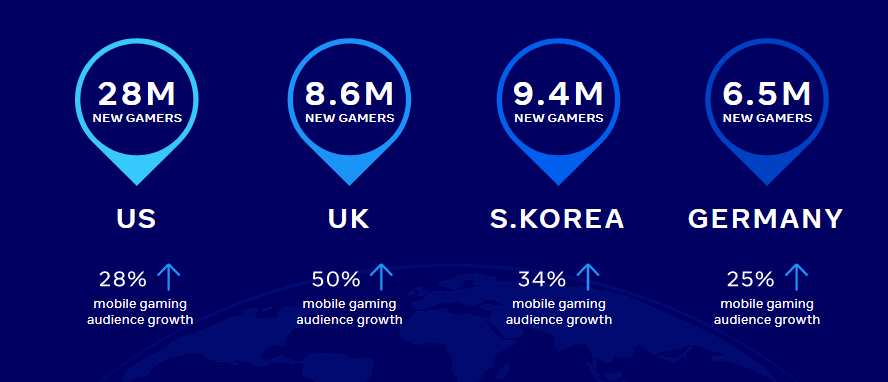 According to the games marketing report, new gamers play more hours a week than existing players.
Even though new and existing gamers report playing a similar number of sessions per week, new gamers play more hours per week than existing players in all markets.

Moreover, new gamers are open to social activity, multiplayer experiences, and chatting with others in-game compared to existing players.
However, existing players across all markets say they prefer single-player mobile gaming experiences to multiplayer.
The Table of Content of "Games Marketing Insights for 2021" Report:
Introduction
Executive summary
The influx of new mobile gamers
What new and existing mobile gamers have in common
Existing players have formed new habits
Gaming communities gather in groups and live streams
Shifts in discovery and purchase behaviors
Takeaways
Number of Pages:
Pricing: