There are many online channels to create a brand identity. Instagram has proven to be an essential and effective marketing tool for businesses that are looking to widen their presence and increase their engagement with the audience.
With over 1 billion monthly active users, $25 million business accounts, and a projected $14 billion revenue, you would not like to miss out on a chance to get your product\service exposed.
Yes, it is more than just photos and videos sharing application.
In this report, Hubspot will show you some tips to get effective and powerful Instagram engagement.
Keep on reading.
Reasons to Consider Using Instagram as a Marketing Tool
If you think Instagram is not as important as other platforms, you might need to take a look at this and you will re-think about it as we show you these Instagram facts:
1. Small Business or Not, It Will Succeed on Instagram:  There are more about 1 billion monthly active users, imagine your business being exposed to the users you choose. That goes for large, famous companies as well as smaller businesses.
2. Make Money Directly From Instagram:  As Instagram has been developing over the years, there is a new service, the latest program is called shoppable posts, it allows the business to add tags to the products in their photos along with links that include a product description, price. Eventually, it will lead the user to your online store and it is simple for a business to attract actual sales from the site besides 72% of Instagram users admitting to purchasing products via Instagram, it is hard to ignore this.
3. Keep an Eye on Your Competitors:  See their interaction with their followers, their posting times, how many posts they post and how they engage with their followers. This will allow you to build a strong strategy.
4. Consider Partnering With Influencers: A dependable influencer can bring the company sales you did not imagine. Many influencers have a large base of followers which can serve your marketing strategy easily.
5. Don't Miss out on Instagram Stories: Stories make your business relatable, the best way to make your stories one of a kind is to show behind the scenes. Introduce your followers to your company and the employees. Bear in mind that live posts are also an effective way to build trust with your followers.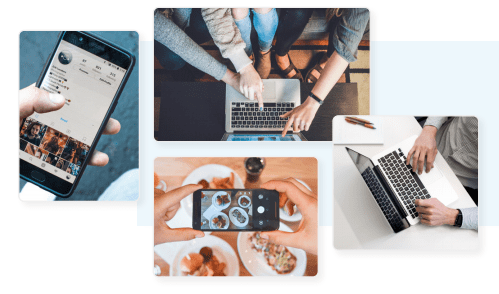 Related Study: The 2020 Instagram Stories Benchmark Report | Rival IQ
Instagram Engagement
Engagement is defined anytime a user likes or comments on one of your posts. According to e-commerce solution Oberlo, engagement rates are healthy metrics to monitor because they underline how frequently your following interacts with your content, and force you to focus on important data, rather than vanity metrics (like the number of followers you have).
Bearing in mind that an average image on Instagram gets 23% more engagement than one published on Facebook.
The most important thing is that your community is interacting with your content, after all, engagement isn't a one-size-fits-all metric and you need to base it on what is important to your brand.
Hubspot's analysis of more than 80 million posts observed that;
The average Instagram post receives a whopping 14869.1 likes.
Also, image posts received 27.55% more likes than permanent video posts, and 13.55% more likes than carousel posts.
How to Better Use Instagram Hashtags
What Are Hashtags?
Hashtags are a combination of letters, numbers, and emoji preceded by the # symbol (e.g. #NoFilter, #WorldCup) categorize content and make it more discoverable. Anyone who clicks on a hashtag or searches for it will see a page with all the posts tagged with it.
According to this year's findings, the average Instagram post contains 10.743886135116517 hashtags. However, the median number of hashtags is actually 6, which tells us that 50% of Instagram posts include less than 6 hashtags.
The engagement of a post tends to drop off after 6 or more hashtags are included.
Posts from top engaged profiles will get a high volume of likes and comments on their own, regardless if they're using hashtags or not.
 Instagram Engagement 2020 Report Highlights
Image posts received 27.55% more likes than permanent video posts.
The average Instagram post contains 10.743886135116517 hashtags, but 50% of Instagram posts include less than 6 hashtags.
The most engaging tagged Instagram accounts are beauty and cosmetic related.
52.35% of Instagram followers have less than 1,000 followers.
The most geo-tagged city in the world is Los Angeles, California and the tagged location with the highest engagement is Coachella, California.
The Content of "Instagram Engagement Report 2020":
Intro
Report Highlights
Instagram Engagement
Hashtags
Tagging
Community
Influencers
Location
Captions
Time
Instagram Stories
More Statistics
Number of Pages:
Pricing:
Methodology:
Hubspot has gathered an impressive amount of social media data to create this report. Hubspot has analyzed 81,258,182 Instagram posts and 1,676,748 of the top users to observe trends about engagement, influencers, caption length, location and other insights that would be interesting and valuable to businesses, as well as marketers.