This report places the spotlight on image-conscious consumers defined as those who say they agree with any of the following statements:
" I like to look after my image\appearance" or "it is important for me to feel respected by my peers" besides disagreeing with the statement, " I am indifferent to what is"in" right now/what is popular"
Without further ado, let's get started with the image-conscious consumers' report.
Who is the Image-Conscious Consumer?
Based on the image-conscious consumers' report, A third of image-conscious consumers hold university qualifications or higher and see great success post-education, with 7 in 10 working in full-time roles.
Moreover, they are concerned about how others perceive them, which is reflected in their attitudes toward their own progress and success in life. 8 in 10 say they want to strive to achieve more in life and like to challenge and push themselves.
The chart below shows the percentage of internet users in each region who are image-conscious consumers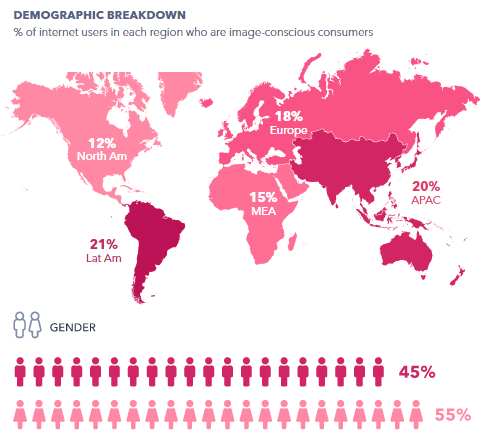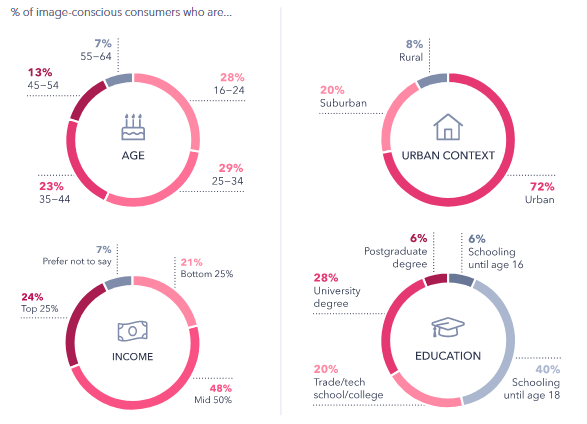 Based on the charts, they're more likely to be a young, female audience, and among the top 25% of earners. Predominantly, urban dwellers, a great number of this audience is found in the APAC and LatAm regions.
Attitudes & Lifestyle:
Image-conscious consumers' primary interests are mostly consistent with that of the general internet population, enjoying a varied array of popular topics.
Furthermore, they take a higher interest in fashion and beauty/cosmetics which are natural contributions to their image-conscious lifestyle. 6 in 10 image-conscious consumers agree they are brand conscious people, 1.2x the global average.
The chart below shows the top 5 distinctive interests

Download the full report here.
The Table of Content of "Image-Conscious Consumers " Report:
Key insights
Who is the image-conscious consumer?
Online behaviors
Social media
The purchase journey
Notes on methodology
Number of Pages:
Pricing:
Methodology:
This report draws insights from GlobalWebIndex's Q2 2019 wave of research across 45 countries, with a global sample of 139,658 respondents. Please note that the data points defining the image-conscious consumer audience are not available in our mobile markets. Throughout this report, we refer to indexes. Indexes are used to compare any given group against the average (1.00), which unless otherwise stated refers to the average internet user. For example, an index of "1.20" means that a given group is 20% above the global average, and an index of "0.80" means that an audience is 20% below the global average